Lightfoot demands statewide ban on 'weapons of war' following Chicago mass shooting
CHICAGO - Chicago Mayor Lori Lightfoot is calling on the Illinois legislature to ban "weapons of war" following a mass shooting in Garfield Park Monday night that left 14 people shot, including three children.
Lightfoot posted a statement Tuesday on Twitter demanding lawmakers institute a "statewide ban" on the firearms.
"Last night's shooting reminds us that there are too many weapons of war available to criminals," Lightfoot's tweet said. "We must have a statewide ban and I urge the legislature to act."
SUBSCRIBE TO FOX 32 ON YOUTUBE
Mayoral spokesman Ryan Johnson said Lightfoot was "referring to assault weapons and weapons modifications that create automatic firing."
Her appeal came days after a Sun-Times, WBEZ and NPR investigation found that Chicago police in recent years have recovered an increasing number of extended magazines and "auto sears," small devices known on the street as "switches" that allow semiautomatic handguns to fire automatically.
At the same time, the number of machine gun prosecutions and mass shootings have risen. It's unclear, though, whether a switch-equipped handgun was used in Monday's mass shooting.
Sources said rifle rounds were recovered at the scene and that an automatic weapon appeared to be among multiple guns used in the shootout. But Johnson and police spokesman Don Terry cited the ongoing investigation in declining to comment on the specific firepower.
Switches are banned federally, along with bump stocks that similarly turn semiautomatic rifles into automatic weapons. Switches and bump stocks are considered machine guns under federal law — even when they aren't attached to a firearm.
Efforts to outlaw so-called assault weapons have long been the subject of fierce partisan rancor, serving as a lasting flashpoint in the debate over gun control. A 10-year federal prohibition ended in 2004 and President Joe Biden has claimed it "brought down" mass shootings in calling for a renewed ban.
Though some local and state officials have pushed for a statewide assault weapons ban, previous proposals have been unsuccessful. New bills focused on banning those types of guns that were filed in both chambers won't be addressed until after the election.
The block of three-flats where 14 people were shot is so rife with violence that drivers have been seen throwing their cars into reverse down the one-way street after being waved away at gunpoint.
"A group of young kids on the east end of the block stand in the street and pull guns out and won't let you pass," said a person who's familiar with the 2700 block of West Flournoy Street in East Garfield Park.
"It's a terrible block. Just horrible," said the person, who asked not to be identified. Gunfire is a daily occurrence, the person added. When the police come, they get yelled at and spit on.
The shooting occurred around 9 p.m. as people celebrated Halloween and others gathered for a vigil and balloon release, Chicago Police Supt. David Brown said at a news conference shortly after the shooting.
"It's over by three seconds," Brown said outside Stroger Hospital, where many of the wounded were taken. "The car's pulling out after driving by and shooting randomly into the crowd."
The wounded children — 3, 11 and 13 years old — were admitted to hospitals in serious condition, Brown said. The other victims ranged in age from 31 to 56, and two of them were listed in critical condition, police said.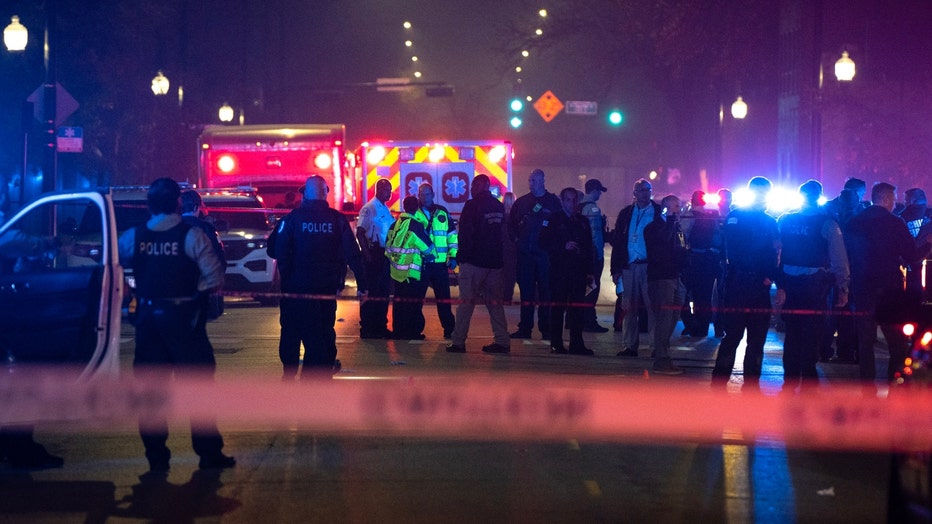 Chicago police and emergency medical responders gather at the scene of a mass shooting on Chicago's West Side near Polk Street and California Avenue on Oct. 31, 2022. (E. Jason Wambsgans/Chicago Tribune/Tribune News Service via Getty Images / Getty Images)
A woman was struck by a car while trying to escape the shooting, police said. She was in fair condition with scrapes on her body.
No one was in custody and police said Tuesday that a motive was still unclear.
The shooting happened two blocks south of the Eisenhower Expressway. The one-way street is lined with brick and stone three-flats, some relatively new. There's a church on the block and an abandoned basketball court.
The block is in one of the most violent police beats in the city, among 55 that have been targeted with extra resources by police over the last year, according to data kept by the Sun-Times.
Since last April, two people have been killed and two others wounded in four other shootings on that block, city data shows.
Even with the area's long struggle with gun violence, Monday night's shooting "is just mind-boggling," said Ald. Jason Ervin (28th), who represents the neighborhood.
He said the crowd was gathered for a balloon release to honor a woman who died recently from an illness. As far as Ervin knows, no one in the crowd was affiliated with a street gang.
"These people, a lot of them are related," he said. "They were just family members memorializing their loved one. … It was a lady that had passed.
"It's just a reprehensible act," the alderman added. "Not only as a community leader, but just as a man and as a Black man, that cannot go unanswered."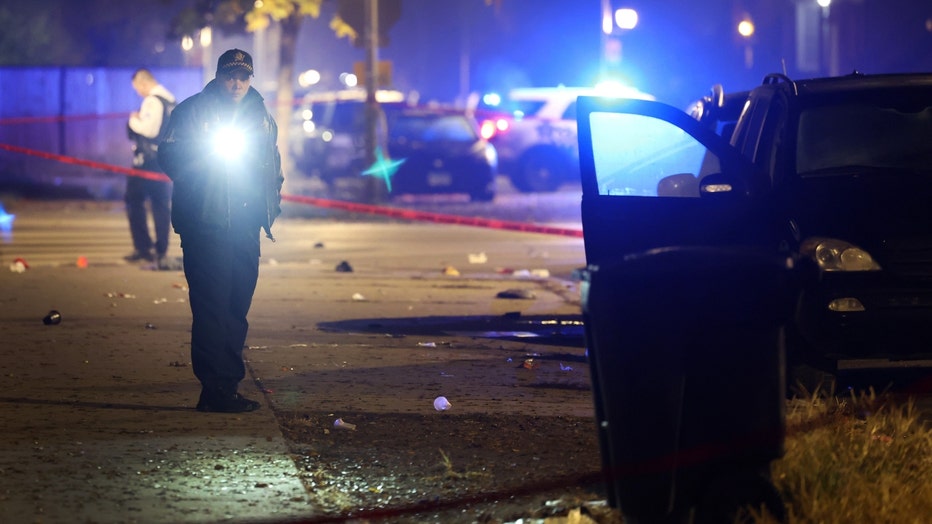 Police investigate the scene where as many as 14 people were reported to have been shot on October 31, 2022 in Chicago, Illinois. Three juveniles were among those reported to have been wounded in the drive-by shooting, according to published reports. (Scott Olson/Getty Images / Getty Images)
Ervin said he is asking religious leaders to gather at the site at 6 p.m. Wednesday.
The chairman of the City Council's Black Caucus, Ervin said he also plans to convene a meeting of "Black leadership" on Saturday at Manley Career Academy High School, 2935 W. Polk. He said he hopes the meeting will produce a "unified cohesive plan of action for our community."
"If these types of incidents aren't a wake-up call to Black folks in Chicago, I don't know what else is," Ervin said, his voice rising in anger. "Three children shot. Several women. Not involved in any illegal activity, but just mourning and celebrating a life of a loved one."
"If people can't do that, we're in worse shape [than we thought]. We've got to dig deep and channel this energy into something positive," the alderman continued. "We have to come together to have this conversation. It may not be the most pleasant conversation. But it's one that's necessary."
The area where the shooting occurred already receives added resources — like stepped-up police presence and help with jobs, housing and programming — under initiatives aimed at tamping down crime in some of the most violent neighborhoods.
While the city logged 580 murders and more than 3,000 shooting victims through October, Mayor Lori Lightfoot and Brown frequently have touted declining numbers in these targeted communities.
East Garfield Park had 14 homicides and 80 nonfatal shootings through Oct. 28, according to a Sun-Times analysis of the most recent available city data. That's down from 29 homicides and 124 nonfatal shootings at the same time last year.
Damien Morris, senior director of violence prevention at Breakthrough Urban Ministries, said older community members are "fed up" with the gun violence and growing more fearful they could fall victim.
"The consensus is that anybody is getting shot now," Morris said. "It's not so much specific targets. And so that's the frustrating thing about that. It's like, nobody is safe if you're in a certain area."
Members of his team responded after the shooting and are now making house calls and putting together care packages for victims' families. He and other outreach workers were also holding an event to engage with residents after schools let out.
"Just in case they have any psychological trauma just from the incident, we're hoping that our presence should bring some type of calmness to them," he said.
Monday night's shooting is the worst mass attack in Chicago since 15 people were shot, two fatally, in Greater Grand Crossing in March 2021. Fifteen people were also shot in July 2020 outside a funeral home in Gresham.
Asked about the number of people shot, Brown urged reporters Monday night to "hold off on hyperbole right now."
"Right now, people are in there getting treated, some may be fighting for their lives," he said. "Let's right now treat this in the most urgent way. We're trying to find an offender."
Brown said the shooting was captured on police surveillance video, which investigators are reviewing. Detectives were also waiting for victims to finish being treated so they can interview them.
"We don't know enough about this, whether it involved a gang conflict or some personal conflict yet," Brown said hours after the shooting. "And obviously we're deploying extra police resources in the area to make sure that we can prevent any retaliation if that's something that's real."
A reward of up to $15,000 is being offered for information leading to charges or conviction. Anyone with information was asked to submit a tip to CPDtip.com.
The Sun-Times Media Wire and Associated Press contributed to this report.