Man killed in South Shore nine months after uncle murdered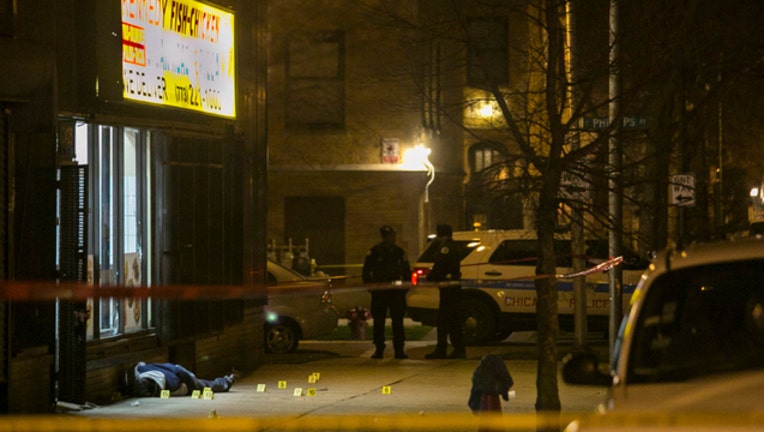 article
CHICAGO (Sun-Times Media Wire) - A father whose third child was born earlier this year was shot to death last week outside a restaurant in the South Shore neighborhood.
Brian Barlow, 31, was found unresponsive with multiple gunshot wounds about 1:45 a.m. Wednesday in the 2400 block of East 72nd Street, according to Chicago Police and the Cook County medical examiner's office. He was pronounced dead at the scene at 2:02 a.m., authorities said.
The body could be seen lying on the ground outside the Kennedy Fish & Chicken restaurant, among more than a dozen shell casings and evidence markers. Witnesses said they saw a red SUV speeding away after the shooting.
Family members said Barlow lived in the neighborhood with his grandmother. According to the medical examiner's office, he lived in the 11800 block of South Emerald.
Shay Barlow, 32, Brion Barlow's sister, said she woke up to a phone call and rushed to the crime scene.
"He was a very down to earth and sweet guy who would give the shirt off his back to help anyone," she said.
Shay Barlow called family members from the scene, including their mother and grandmother. She said their mother, who lives in Las Vegas, is "not doing too good."
She then stood quietly at the scene for hours, flanked by family and friends, while police investigated.
"Our family is devastated," she said, adding that Brion Barlow was the nephew of 52-year-old Christon Barlow, who was shot to death June 23, 2015, while running errands in the South Side Bronzeville neighborhood.
Brion Barlow's father survived being shot in the head in 2014 in the North Side Uptown neighborhood.
"I don't know why, it's like senseless violence," Brion Barlow told reporters in 2015 at the scene of his uncle's murder.
The family has started a GoFundMe page "to assist in a proper service for Brion."
Keith Ternoir, 45, who has lived in the building next to Kennedy Fish & Chicken for about a year, said he heard 17 shots ring out, adding, "It was the entire clip."
He said he knew Brion Barlow, whom he called "B-Low," from the neighborhood.
"He was a cool cat, he rapped," Ternoir said. "That man had a promising career."
When the mother of at least one of Brion Barlow's children arrived at the scene, Ternoir draped his jacket over the sobbing woman's shoulders.
"It's not Brion," the woman cried, as Ternoir, now wearing just a t-shirt, hugged her.
"People are just sick and tired of being sick and tired," Ternoir said, adding that he has been shot on three separate occasions. "You don't even have to be a gang member to get shot out here."
Brion Barlow wasn't affiliated with a gang, he said.
"He didn't do nothing," Ternoir said. "He didn't do a damn thing."