2 inches of snow falls on Chicago, to be followed by coldest temps of season
CHICAGO - The Chicago area saw its second major snowfall in a week Monday morning, ahead of a deep freeze forecast for Tuesday night when wind chills could fall to minus 19 degrees.
The snow started falling early Monday and, by noon, 2.2 inches of snow had fallen at O'Hare International Airport, and 2 inches at Midway Airport, the National Weather Service said.
More than 100 flights were cancelled at O'Hare and more than 50 at Midway, according to the Chicago Department of Aviation.
A winter weather advisory that expired at noon predicted between 2 and 3 inches of snowfall.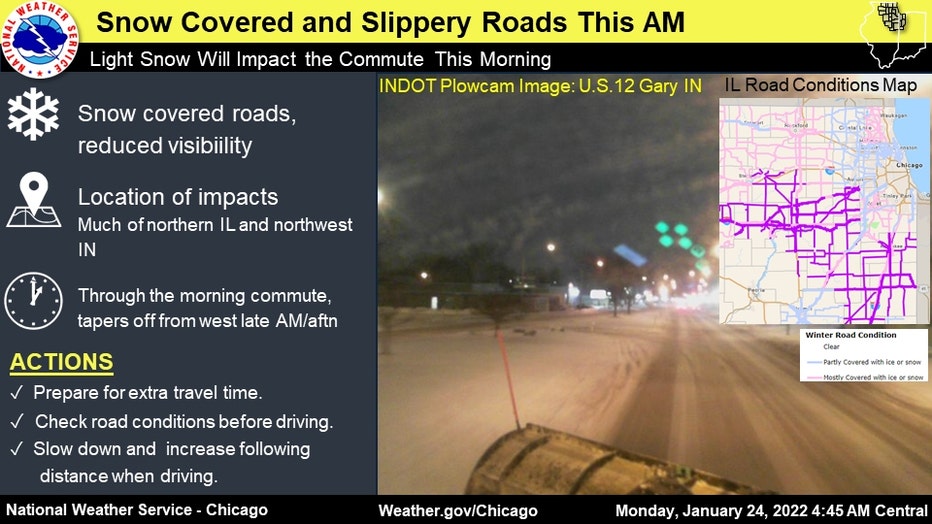 Though the snow was light, cold temperatures allowed it to stick to untreated roads. The morning commute was down to a crawl in some areas.
TIM'S WEATHER TAKEAWAYS: CHICAGO'S SNOWFALL STATUS
Plows in Chicago moved from arterial to residential streets Monday afternoon, according to Department of Streets and Sanitation spokeswoman Mimi Simon. Temperatures were favorable for snow removal and road conditions were expected to improve by the evening commute, she said.
The plows have been rolling since Saturday evening, when another snow system moved through the area and dropped nearly 4 inches of snow in the city.
In Hillside, traffic moved slowly on Mannheim Road near the Eisenhower expressway after a car ran into the back of a school bus at Harrison Street. No one was injured, but it was a bad way to start a Monday.
Driver George Huerta told FOX 32 Chicago, the road conditions were terrible. He pulled over at a gas station because it was too difficult to drive.
Monday's snowfall will be followed by some of the coldest temperatures of the season, with highs in the teens Tuesday and Wednesday, and a low below zero Tuesday night. The windchill could reach 19 degrees below zero at O'Hare then, according to the Weather Service.
SUBURBAN COOK COUNTY WARMING CENTERS OPEN AS WIND CHILLS PLUMMET
Warming centers in suburban Cook County have opened in anticipation of the freezing temperatures Tuesday night. A complete list of warming centers is available at: https://www.cookcountyil.gov/service/warming-centers