Armed offender shouting anti-police sentiment shot by Chicago cops at police station: CPD
CHICAGO - An armed man was shot by Chicago police officers inside a West Side CPD station Wednesday afternoon.
At about 12:52 p.m., an armed offender entered the 10th District station located at 3315 W. Ogden Ave., Supt. David Brown said during a news conference Wednesday.
Brown said the offender was mumbling and ranting in the lobby of the facility.
"Officers see that the offender has a plastic bag wrapped in his hand and one of the officers immediately sees what appears to be a barrel of a gun protruding from the wrapped plastic bag that the offender is holding in his hand," said Brown.
SUBSCRIBE TO FOX 32 ON YOUTUBE
Police said the offender began shouting anti-police sentiments, and then brandished a gun, pointing it at officers and civilian employees who were working the front desk.
Shots were then fired at the offender by three officers, according to police.
The offender was struck in the arm, and transported to an area hospital with non-life-threatening injuries, where he was listed in stable condition.
Police, on Wednesday, said the suspect was not being cooperative with investigators. Officials said they took his fingerprints in an attempt to identify him.
Brown did not disclose whether the man's gun was loaded.
The officers involved in this shooting have been placed on routine administrative duties for 30 days.
No officers or civilian employees were wounded.
The Civilian Office of Police Accountability (COPA) is handling this investigation.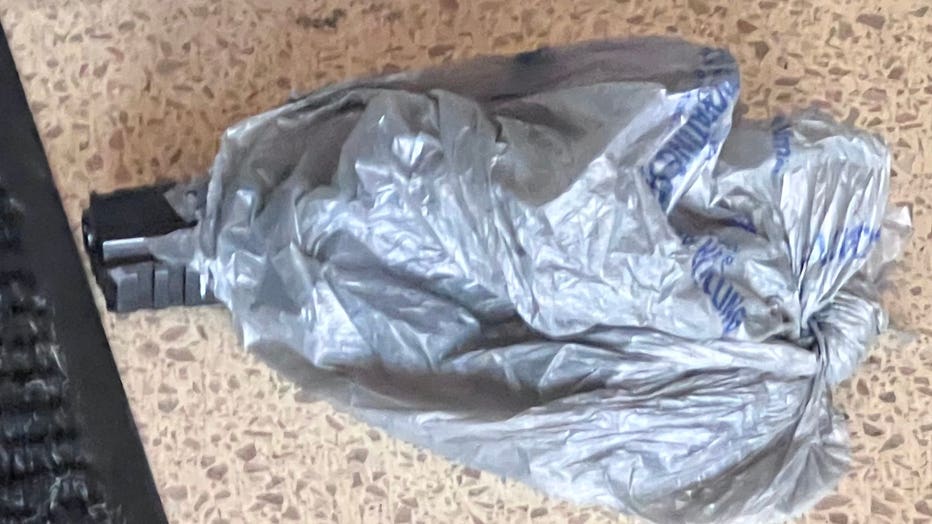 Gun recovered at scene | Tom Ahern
The shooting comes just over a week after a man was shot when he allegedly broke into CPD's Homan Square Facility, also on the West Side, using a fire escape. Once inside, police said he grabbed unloaded guns from a table during a training session and aimed at officers.
Donald Patrick, 47, of Waukegan, was charged with felony counts of burglary and aggravated battery of a peace officer in connection with the bizarre incident on Sept. 26 at the Homan Square compound, 3340 W. Fillmore St.
During a court hearing on Sept. 28, prosecutors said Patrick sought to recover property, though he had never been arrested in Chicago and there was nothing there belonging to him.
Patrick's attorney suggested he may have been suffering "a mental health episode" when he scaled an exterior staircase and interrupted the SWAT training session. He was ordered held without bail.
In light of last week's incident and now Wednesday's shooting, Brown said the department is looking into enhancing security at CPD facilities.
"The number of officers being shot at or shot, and this anti-police sentiment expressed by this particular offender, has us all concerned about access to our police facilities where our officers are," said Brown. "But we have to balance that with being open to the community to come in and make reports, come in and engage with our officers."
The Sun-Times Media Wire contributed to this report.