Protesters statewide demand Governor Pritzker reopen Illinois
CHICAGO - On the first day of Illinois' revised stay-at-home order, protestors filled the streets of Chicago.
Hundreds packed the plaza in front of the Thompson Center Friday, demanding Governor JB Pritzker reopen the state.
In Springfield, the crowd was even larger with nearly 1,000 people standing side-by-side, holding signs and flags. These are the largest protests against the closures in Illinois since the pandemic began.
Proudly going without masks and ignoring social distancing, about 300 people rallied downtown for several hours, calling for an immediate end to Illinois' COVID-19 shutdown.
"We're here to say we can think for ourselves and we can come out whenever we please!" said Former Cook County Commissioner Tony Peraica.
"My business is closed. We're shut down. No money coming in. This is crazy. I don't believe the hype," said James Rock.
The "Re-open Illinois" rally was organized by Freedom Movement USA -- a group funded by conservative donors that has sponsored other COVID-19 protests around the country.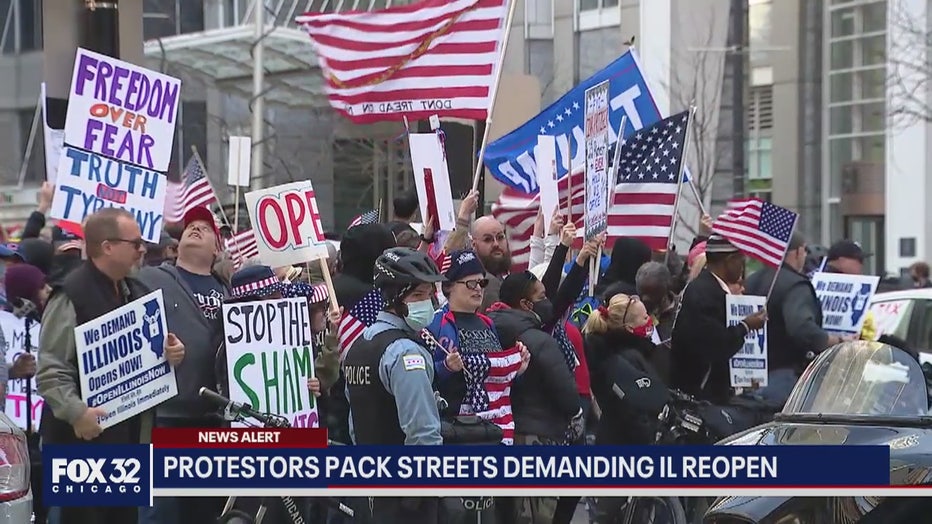 Unlike some of those other protests, there were no Confederate flags or people carrying long guns. But there were plenty of President Trump supporters who say they don't believe the science.
"I came out here to stand with my fellow Americans who know that this coronavirus is a hoax," said Candice Vlise.
"You have hospitals that are empty and they're telling us they're full," another protester said.
Chicago Police formed a blockade to separate the protesters from several dozen counter protesters, including a group of nurses from Chicago area hospitals.
"We came out here to challenge the narrative of these demonstrators that COVID-19 is not something to be fearful of. We should be very afraid of it. It has killed a lot of people and will continue to kill people unless people stay at home," said Paul Pater.
Chicago police made two arrests for disorderly conduct, and the organizers of the protest say this won't be their last.