Rauner: 'Outrageous' the House is off until next month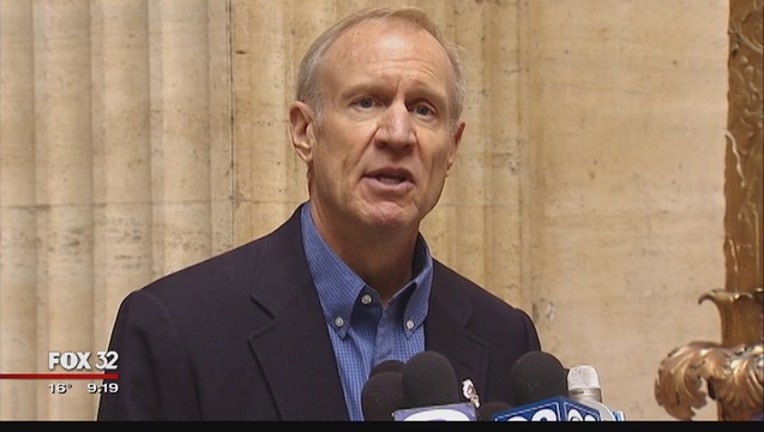 article
SPRINGFIELD, Ill. (AP) — Republican Gov. Bruce Rauner admonished Democratic Speaker Michael Madigan on Tuesday over the House calendar, calling it "outrageous" that legislators in the chamber aren't due to return until April 4 despite an Illinois budget stalemate now in its ninth month.
Rauner's tongue-lashing of Madigan is the second in as many weeks as both state leaders continue an epic standoff over a budget that should've taken effect July 1 and neither man is budging. Rauner wants pro-business, union-weakening legislation he argues will attract more business to the state, while Madigan has described the governor's proposals as extreme attacks on the middle class.
Rauner on Tuesday repeatedly characterized the House's leave from the statehouse as a vacation.
"It's wrong, they should get back here and do their jobs," he told reporters in his office at the Capitol.
Madigan spokesman Steve Brown said the schedule was posted long ago and that Rauner had mischaracterized it as a vacation. He also criticized Rauner for spending Monday campaigning for Illinois Republican U.S. Rep. John Shimkus.
"Apparently he woke up, I guess this morning, because yesterday he was out campaigning, woke up this morning and looked at the legislative schedule that's been published for three or four months and decided to come out and make a lot of baseless comments," Brown said.
While the House is off, the Senate is in session for three days this week.
Rauner said the House not being in session highlights a "stunning failure on the part of Speaker Madigan and his caucus in the House."
The back-and-forth sniping underscores how the acrimony between Rauner and Madigan has only grown in the weeks before high-stakes legislative primaries on March 15. Madigan is among the legislators facing a challenge.
Last week, Rauner accused Madigan of playing political games instead of working with Republicans to pass legislation to fund higher-education institutions and social service programs that have suffered during the budget impasse.
Those comments came before Madigan and his House colleagues passed two pieces of legislation that together would earmark $3.7 billion for colleges, tuition assistance for low-income students and fund various human service programs.
Democrats labeled their idea a compromise — to the annoyance of Republicans who said they weren't consulted — because it includes forgiving the repayment of $454 million in special state funds. Democrats point out the governor is on board with that to help fund colleges.
But the governor's office said the two bills Democrats passed are linked and will put Illinois further in debt because the state is currently spending at a deficit without a budget.
It's unclear when the Senate will take up the legislation, but Rauner has already indicated he intends to veto the plan.
While Rauner reserved the bulk of his wrath for Madigan, he also had choice words for Democratic Senate President John Cullerton. Rauner urged him to call up pension legislation he said will save the state money and work on passing funding for public schools.
Cullerton spokesman John Patterson said the Senate president has been working with education officials and lawyers to address both school funding and pension reform.
"The Senate president is trying to pass a law, not just create a roll call," Patterson said in a statement.
___
Associated Press writer Ashley Lisenby contributed to this report.