The Wiener's Circle owner coordinates effort to feed migrants bused from Texas
CHICAGO - A hot dog and fries can sometimes be a lot more than just a hot dog and fries.
That was the case last week when the owners of The Wiener's Circle in Lincoln Park delivered food to a group of 60 migrants who've been eating primarily cold sandwiches since they arrived in Chicago on Dec. 26, on a bus sent by Texas Gov. Greg Abbott, and were greeted by subzero temperatures.
"What better way to welcome them than with a Chicago style hot dog?" asked Wiener's Circle owner Ari Levy, who delivered the food Tuesday to a location owned by a North Side church that's been helping care for the migrants.
"We're going to try to get them warm meals every Tuesday night," Levy said. "It won't be The Wiener's Circle every week, but we're going to try to rally friends and other restaurants and groups throughout the city. It's a New Year's resolution for us."
So far, several volunteers have stepped up; the Weiner's Circle has been posting about its efforts on social media.
SUBSCRIBE TO FOX 32 ON YOUTUBE
The migrants getting the hot dogs — sans ketchup — were primarily from Venezuela. The group, surrounded by donated winter clothes, ate frankfurters and fries and sang karaoke.
"They were saying 'Thank you' and my Spanish isn't great but I was saying ''Welcome to Chicago' and it was very happy but also partly a grief session. Some people told me they walked a huge portion of the journey from Venezuela."
The restaurant is best known for serving up comedic insults to customers but also has used its well-known sign on North Clark Street to post messages, in colorful language, roasting political leaders and advocating for causes. Most can't be repeated here.
"The shelters where they are staying provide three meals a day, but it's all cold food," said Nan Warshaw, co-founder of Refugee Community Connection, a nonprofit that assists recently-arrived refugees.
The group also helps run several "free stores" where migrants can choose outfits from racks of donated clothing.
"People are arriving with the clothes on their back and for people from Venezuela and Colombia, they are mostly warm-weather clothes," said Warshaw. She added that anyone looking to help can visit their Facebook page.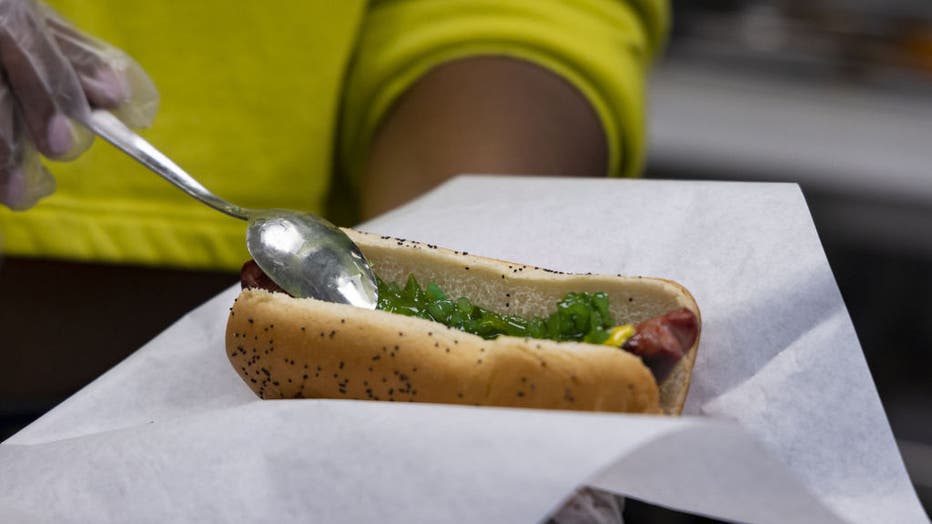 The Wiener's Circle char dog is prepared with green relish and other ingredients. (Brian Cassella/Chicago Tribune/Tribune News Service via Getty Images)
The Wiener's Circle set up bins this week at the restaurant to collect winter clothing this week. Those donations ultimately will end up in one of the free stores.
Since late August, nearly 4,000 asylum seekers have arrived in Chicago aboard chartered buses sent from Texas by Abbott, who also sent asylum seekers to other Democrat-led cities.