Third person charged with fatal shooting of 2-year-old Chicago boy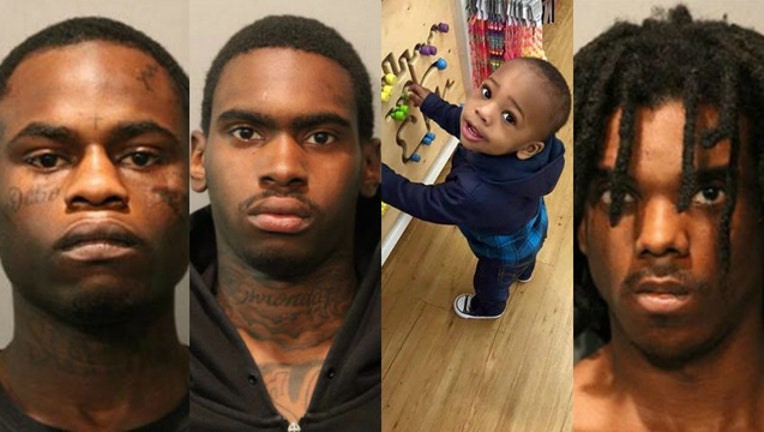 article
SUN-TIMES MEDIA WIRE - Two more men have been charged with the fatal shooting of a 2-year-old boy and his uncle that also left a pregnant woman wounded on Valentine's Day in the North Lawndale neighborhood.
Bond was denied Friday for Doniel Harris, 19, who faces one count of murder, according to the Cook County State's Attorney's office.
On Friday, Jeremy Ellis, 19, was charged with murder and attempted murder, the state's attorney's office said. He is expected to appear in bond court Saturday.
Devon Swan, 26, was ordered held without bond last week after he was charged with two counts of murder and one count of attempted murder.
The three are charged with the shooting deaths of  2-year-old Lavontay Smith and his 26-year-old uncle, Lazarec Collins, authorities said. Collins' 21-year-old girlfriend, who is 4 months pregnant, was wounded in the attack.
At a press conference Friday, Chicago Police Supt. Eddie Johnson said he hopes the arrests made in Lavontay's homicide spark questions by the public.
"Our hope is that, through these types of incidents, we as a city start to ask the questions that need to be asked. Questions like 'Why are these people allowed to cycle through the criminal justice system? Where are our state legislators? And when are they going to pass the laws necessary to send a message to these individuals that it's not OK to commit these crimes on our streets?" Johnson said.
The three victims were in a car in the 2300 block of South Kenneth, with Collins' girlfriend driving, shortly before 1:30 p.m. Feb. 14 when the shootings occurred.
As they were driving, a blue Chevrolet Spark, occupied by Swan and three others, pulled up alongside and two people inside opened fire, prosecutors said. The car is owned by Swan's girlfriend, who loaned it to him after he dropped her off at work an hour earlier, prosecutors said.
Collins was shot five times in his abdomen, back and legs; Lavontay was shot once in the back of the head, prosecutors said. The bullet eventually exited through his cheek. Both were pronounced dead at Stroger Hospital.
Collins' girlfriend, who was streaming live to Facebook at the time of the shooting, was shot once in the abdomen, authorities said. She was taken to Mount Sinai Hospital.
Prosecutors said the shooting was retribution for the shooting death of one of Swan's friends whom the shooters believed Collins was responsible for.
At least one more suspect is still being sought, police said.