Ugly trends in crime, murders continue in June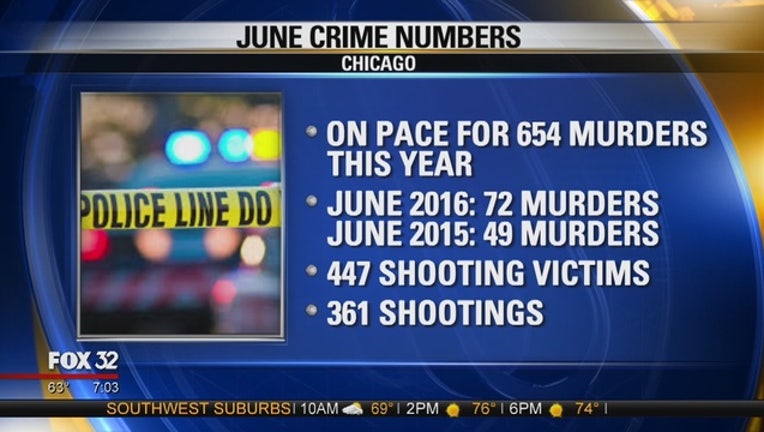 article
CHICAGO (Sun-Times Media Wire) - As the city heads into the Fourth of July weekend, Chicago Police closed the books on yet another month of disheartening crime statistics, the Chicago Sun-Times is reporting.
Ugly trends continued in June with 72 murders during the month. The six-month tally of 315 killings is 49 percent higher than the first half of 2015 and puts the city on pace for 700 killings for the year, a grim forecast noted by Fraternal Order of Police President Dean Angelo during a speech this week at the City Club.
Police officials noted that through the first half of the year, CPD officers had pulled more than a third more guns off the streets than over the same span in 2015 and touted initiatives by Supt. Eddie Johnson that put more than 150 new officers on the streets.
The increased violence comes in a year that has featured unusually warm weather — a factor in urban violence — and diminished police morale and public distrust of the CPD as the city grapples with the fallout of protests over police brutality.
In a statement issued ahead of the official release of the June crime statistics, Johnson called the level of violence in the city "unacceptable" and largely attributable to "repeat offenders with ties to gangs" and illegal guns.
In June, Johnson announced changes to CPD overtime practices and the introduction of a Summer Mobile Patrol, and increased patrols by Illinois State Police troopers on highways threading the city. Johnson's statement also noted that 85 percent of those killed or wounded in shootings so far this year were on the CPD's "Strategic Subject List," a list of 1,500 or so names of residents determined to be likely victims of shootings, based on gang affiliation and relationships with previous shooting victims.
During the long Memorial Day weekend last month, the city saw 69 shootings and six murders.