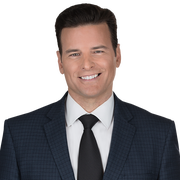 Scott Schneider co-anchors Good Day Chicago. He joined the WFLD team in November 2015.
Schneider comes to FOX 32 from FOX affiliate WXIX in Cincinnati, Ohio where he served as anchor and reporter of the 6:30 p.m. and 10 p.m. newscasts.
Prior to joining WXIX, Schneider spent more than a decade serving as anchor/producer/reporter at WFMJ-TV in Youngstown, Ohio and also worked in West Virginia where he anchored the evening news at WDTV in Clarksburg.
Over the course of his career, Schneider has a covered a host of memorable stories and as a result has encountered a host of memorable people.
"It's been my pleasure to meet with newsmakers, politicians, and celebrities and yet my most memorable assignments have been those individuals who have demonstrated courage in the face of adversity," he said.
A southern California native, Schneider grew up in Los Angeles and holds a Bachelor of Science degree from Cal Poly Pomona.
The latest from Scott Schneider
Abloh's mural stands 60-feet tall and was created with only spray paint. It spans two stories, and it took Chicago street artist Rahmaan Static about seven days to complete.
The Illuminator has two electric traction motors powering the front and rear wheels, packing 480 horses with over 630 pounds of torque all coming courtesy of a crate motor from Ford's Mustang Mach-E – a motor that's available for purchase online right now for under $4,000 – but that's where you'll need a mechanic.