Cubs' Bryant agrees to record-setting $10.85M deal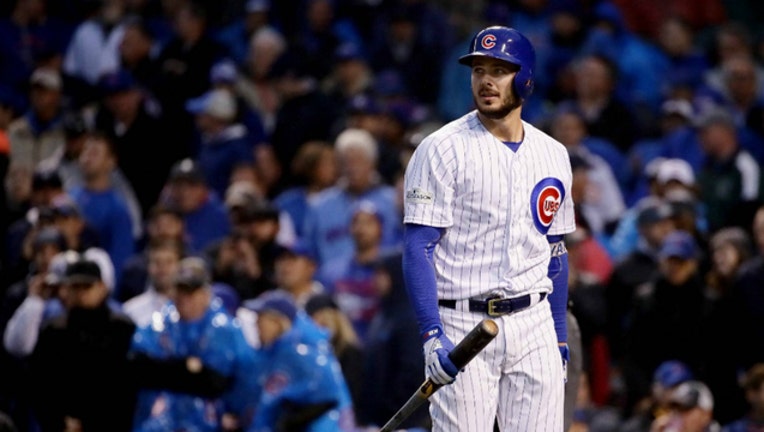 article
CHICAGO (AP) - Kris Bryant put up another big number on Friday.
Bryant agreed to a $10.85 million, one-year deal with the Chicago Cubs, a record for a player eligible for arbitration for the first time.
"I guess for some players it might be stressful, but I really enjoyed the whole process of it," Bryant said before the start of the team's annual fan convention. "You play to get to this point in your career, and I've put in so much hard work behind the scenes to get to this point. It just feels so rewarding."
The previous mark was held by former Philadelphia slugger Ryan Howard, who was awarded $10 million by a three-person panel in 2008. The Cubs and Bryant avoided arbitration, and the 26-year-old third baseman receives a hefty raise after making $1.05 million last year.
"I don't look at money records," Bryant said. "I guess the records on the field are way more important, because when you're doing that, you know, you're helping the team. But it really is a cherry on top when you get paid millions of dollars to do something that you've loved since you were 4 years old."
The Cubs also reached one-year deals with right-hander Kyle Hendricks ($4,175,000), shortstop Addison Russell ($3.2 million) reliever Justin Wilson ($4.25 million) and infielder Tommy La Stella ($950,000). The team exchanged figures with reliever Justin Grimm, but president of baseball operations Theo Epstein said he hopes to strike a deal before an arbitration hearing.
Bryant was selected by Chicago with the No. 2 pick in the 2013 draft, a key moment in the Cubs' ascension from perennial loser to annual championship contender. He hit .292 with 39 homers and 102 RBIs in 2016, winning the NL MVP award and helping Chicago win the World Series for the first time since 1908.
The 2015 NL Rookie of the Year batted .295 with 29 home runs and 73 RBIs last year.
"I'm happy for K.B. I thought he got a fair and record award," Epstein said, "which just shows a lot of the special things he's been able to accomplish and the special teams he's been on as well."
Epstein said there were no substantive discussions this winter on a long-term deal for Bryant, who is represented by Scott Boras.
"I'll hear anything that they have to offer," Bryant said. "I'd be a fool not to."