Former Blackhawks legend Bobby Hull dies at 84
CHICAGO - Bobby Hull, the all-time leading scorer in Blackhawks history, died Monday morning at the age of 84, sources tell FOX 32.
No cause of death has been given yet.
Hull was inducted into the Hockey Hall of Fame in 1983 and had his No. 9 sweater retired by the Blackhawks that same year. 
A native of Point Anne, Ontario, Hull emerged as a star in his third season of 1959-60, tallying 39 goals and 81 points, and never looked back. He broke the 30-goal plateau in 13 consecutive seasons and eclipsed the 50-goal mark five times, including a career-best 58 goals and 107 points in 1968-69.
Hull played for Chicago for 15 years, collecting 604 goals and 549 assists. He was named a Blackhawks ambassador in a ceremony with fellow Hall of Famer Stan Mikita in 2008.
He won a Stanley Cup title with the Blackhawks in 1961.
But Hull's history of inappropriate off-ice conduct — marked by rampant allegations of domestic abuse and racism — has long overshadowed his on-ice achievements.
SUBSCRIBE TO FOX 32 ON YOUTUBE
Hull was convicted in 1987 of assaulting a police officer who intervened in an argument between Hull and then-wife Deborah. A mini-documentary by ESPN in 2002 included his previous wife, Joanne, recounting a fight in which Hull beat her in the head with a steel-heeled shoe, then held her off a balcony in Hawaii.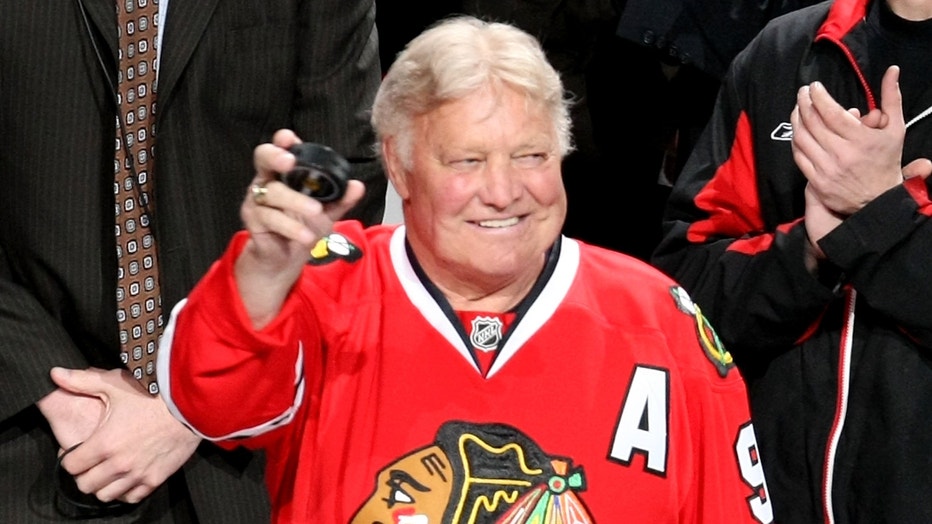 Chicago Blackhawks legend Bobby Hull walks out to drop the puck for the ceremonial face off prior to the Blackhawks hosting the Vancouver Canucks in Game Three of the Western Conference Semifinal Round of the 2009 Stanley Cup Playoffs on May 5, 2009
Hull's daughter, Michelle, who became a defense lawyer for female abuse victims, also detailed Hull's history of alcoholism in that documentary.
In 1997, a Russian publication quoted Hull praising Hitler for "good ideas," claiming the Black population was growing too fast and expressing support for genetic breeding. Hull denied the comments and sued the publication at the time.
The Blackhawks released the following statement after Hull's death: "The Chicago Blackhawks are saddened by the passing of Blackhawks legend Bobby Hull, a superstar for our franchise between 1957 and 1972. Hull is part of an elite group of players who made a historic impact on our hockey club. The Golden Jet helped the Blackhawks win the 1961 Stanley Cup and delivered countless memories to our fans, whom he adored. Generations of Chicagoans were dazzled by Bobby's shooting prowess, skating skill and overall team leadership that led to 604 career goals, a franchise record that remains to this day. We send our deepest sympathies to the Hull family."
The Associated Press and the Sun-Times Media Wire contributed to this report.