Lackey goes 7 strong, Cubs beat Phillies 8-1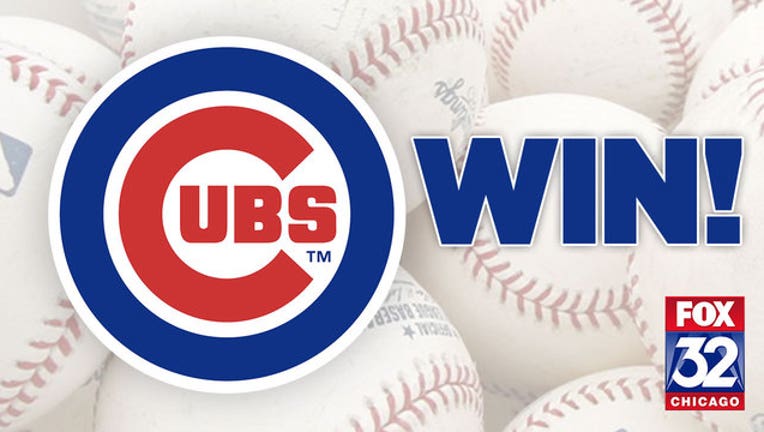 article
PHILADELPHIA (AP) - John Lackey gave the Chicago Cubs another excellent start, a common theme for baseball's best team.
Lackey struck out eight in seven dominant innings, Kris Bryant and Ben Zobrist hit homers and the Cubs beat the Philadelphia Phillies 8-1 on Wednesday.
Lackey (7-2) gave up three hits and extended his scoreless streak to 13 2/3 innings. Each of Chicago's starters has an ERA under 2.90 and the rotation entered with the lowest ERA (2.34) by nearly a full run.
"You don't want to be the guy who screws up," Lackey said. "When a guy gives you the baton, you don't want to drop it. We definitely root for each other. You don't want to let the boys down."
The 37-year-old Lackey is off to his best start in his first season with the Cubs.
"I'm appreciating him more this time around," said manager Joe Maddon, who was a coach on the Angels where Lackey began his career in 2002.
"He's a really smart pitcher. He has a plan for everybody. He's unpredictable. It's unusual to see a guy his age, coming off everything he's gone through, to pitch better than I've ever seen him."
Phillies starter Vince Velasquez left the game after getting one out because of right biceps soreness. Velasquez threw two pitches and quickly left the mound when a trainer came out. He'll be evaluated on Thursday.
"I'm not concerned at all," Velasquez said. "I have been in this situation before."
Brett Oberholtzer (2-1) replaced him and allowed one unearned run following his throwing error in four innings.
Bryant hit his 14th homer off Andrew Bailey in the sixth, a two-run shot out to left. Zobrist connected one out later to make it 4-0.
Chicago scored four runs off Colton Murray in the eighth to extend the lead.
The Phillies missed an opportunity in the first after consecutive singles by Odubel Herrera and Cesar Hernandez put runners on first and third. Herrera tried to score on Freddy Galvis' shallow fly, but left fielder Albert Almora Jr. threw him out by several feet.
"I was already chalking that run up," Lackey said. "Always fun to see a young kid make a great play."
STANDINGS
The major league-leading Cubs are 41-17 while the Phillies fell to 29-31.
NICE DEBUT, KID
Almora, the No. 6 overall pick in the 2012 draft, started his first game. He showed off his arm on his first play, the fly ball by Galvis. He added an RBI single off pitcher Colton Murray's glove in the eighth.
"Both felt really good," Almora said. "I'm happy to help the team out."
LOOKING SHARP
Inspired by Jon Lester's suggestion, Cubs players, coaches and staff wore blue-and-white, NBA-like tracksuits to the ballpark throughout the series and will continue it on their way to Atlanta. Themed road trips have become part of the team's identity under Maddon.
TRAINER'S ROOM
Phillies: If Velasquez can't make his next start, Zach Eflin could be called up from Triple-A to take his spot. Eflin was scratched from his scheduled start Wednesday night.
UP NEXT
Cubs: Following a day off, RHP Jason Hammel (7-1, 2.14 ERA) takes the mound in the opener of a three-game series at Atlanta.
Phillies: After a day off, RHP Jeremy Hellickson (4-3, 3.80) starts the opener of a three-game series at NL East-leading Washington on Friday night.