Thunder acquire Gibson, McDermott in trade with Bulls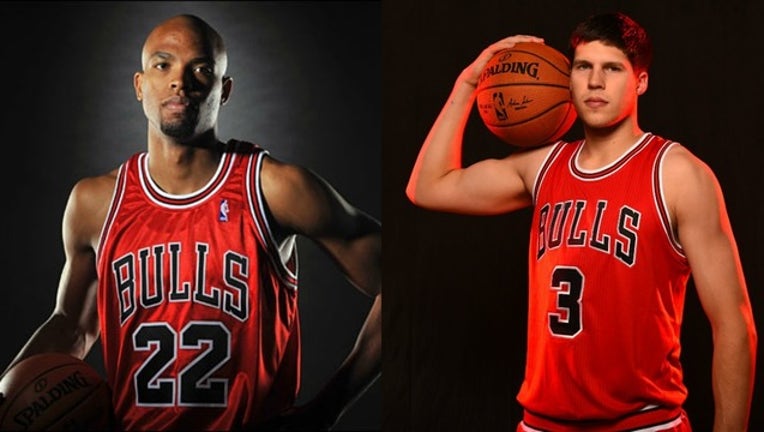 article
OKLAHOMA CITY (AP) - The Oklahoma City Thunder got some help for Russell Westbrook by acquiring forwards Taj Gibson and Doug McDermott from Chicago just before the NBA trade deadline.
The Thunder announced the deal Thursday night.
The Bulls also sent a 2018 second-round pick to the Thunder. Oklahoma City sent Cameron Payne, Joffrey Lauvergne and Anthony Morrow to Chicago.
Oklahoma City general manager Sam Presti said he likes where his team is after the moves.
"I think that we're a better team this evening than we were this morning because I think we were able to add some things to help our teams in terms of the collective, the aggregate," he said. "How much? I don't know how to answer that. We have to see how we play."
Gibson adds the athleticism and experience to the front line that the Thunder lost when they traded Serge Ibaka in last year's draft. He averaged 11.6 points and 7.0 rebounds this season in 55 starts for the Bulls this season.
Gibson said he was "shocked" to be leaving Chicago after playing for the Bulls his entire 7 ½-year career.
"From the moment I woke up at 5 this morning, my agent called me," he said. "He was getting a lot of hits from a lot of different teams. That's when I knew it was serious. I didn't know if they would get it done. I was just going through the day like I normally do. Guys, we laugh about it - you never know who's going to be here. But once I saw the news, I was kind of excited but sad at the same time."
Oklahoma City entered the All-Star break seventh in the Western Conference standings with a 32-25 record. Gibson likes the idea of joining a winner, and he's excited to play with Westbrook, the league's leading scorer.
"That's my boy," Gibson said of Westbrook. "I've known him since high school, college going against him. He's always shown me love every time I've seen him. He's a great guy. I'm just hoping to go there and chime in and help any way I can."
The Bulls, who have the league's worst 3-point percentage and fewest 3-point attempts and makes, gave up their best 3-point shooter in McDermott, a third-year forward from Creighton. McDermott is a career 40 percent shooter from 3-point range, and shot 37.6 percent from beyond the arc this season, mostly as a reserve.
The Thunder rank 29th out of the league's 30 teams in 3-point percentage, so McDermott could have an immediate impact.
"McDermott has a chance to be a very nice complement to our other players," Presti said. "We are really excited about adding him."
Bulls executive vice president of basketball operations John Paxson called Gibson "one of the best people that we've ever had" and said McDermott is "another great person." He also said the deal creates more playing time for Bobby Portis and Denzel Valentine. Payne figures to get a serious look, too, though Chicago now has five point guards.
The bigger story for the Bulls is that Jimmy Butler is staying at least for now. The three-time All-Star guard's name has been linked to trade rumors most notably with Boston since last spring.
Talks figure to resurface in June, but Paxson made it clear: Any team that wants Butler had better be ready to pay up.
"If we are ever in a position where we are going to rebuild completely, you have to have a certainty in terms of what you're getting back," Paxson said. "If you're going to go that route, you want draft picks. You want high draft picks, and there has to be a certainty in those draft picks. I can tell you there was nothing remotely close to anybody calling us about Jimmy Butler."
He called Butler a "top 10 or 12 player" and said they are "building with Jimmy."
"People think that there's an opportunity to get him, they have to know that they can't come and try to throw something out there that we would never do," Paxson said.
Payne was a promising backup to Westbrook who had missed much of the season with a foot injury. He averaged 5.3 points in 20 games this season. He played in 57 games as a rookie last season.
Morrow, primarily a 3-point shooter, lost playing time to rookie Alex Abrines this season. He's a career 41.7-percent 3-point shooter, but he was down to 29.4 percent this season.
Lauvergne was a reserve power forward the Thunder had just added in an offseason deal with Denver.
___
Follow Cliff Brunt on Twitter: www.twitter.com/CliffBruntAP.
___
AP Sports Writer Andrew Seligman in Chicago contributed to this report.