Jupiter's forecast: Swirling storms as big as Earth that last for years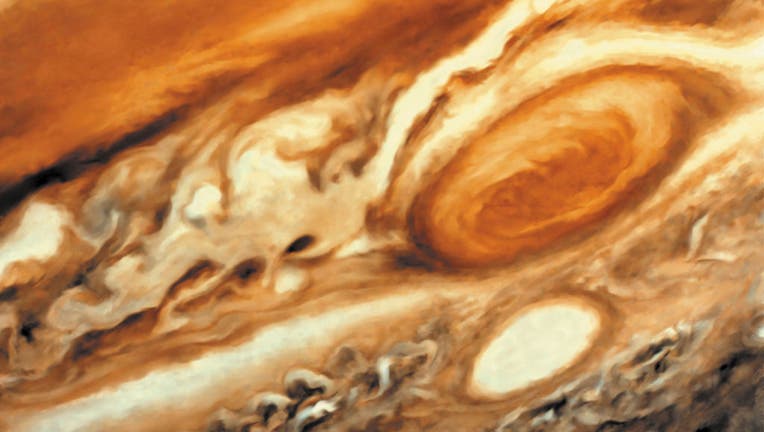 article
People get antsy when a big storm washes out for a few days. Imagine a storm lasting for years and large enough to cover the entire planet.
That is the reality of our solar system's giant neighbor Jupiter.
NASA recently compiled some photos and data from its Juno spacecraft mission that buzzed by Jupiter in August 2020 to compose an image of what storms on the planet would look like from up close.
"A swirling white oval is visible nearby, while numerous smaller cloud swirls extend into the distance," NASA said. "On Jupiter, light-colored clouds are usually higher up than dark clouds."
There are some notable differences between the storms on Earth and Jupiter, aside from their composition amid radically different atmospheres.
JAMES WEBB SPACE TELESCOPE CAPTURES JUPITER'S SWIRLING WEATHER, COLORFUL AURORAS AND RINGS
For example, while storms form around low-pressure centers on Earth, it's high pressure storms on Jupiter that rate the largest, NASA says. Jupiter storms can individually be at least the size of Earth if not larger, and can last for years instead of days, making checking that weather app on Jupiter a rather mundane task.
NASA said both Earth and Jupiter-borne storms can carry lightning.
HOW TO WATCH FOX WEATHER ON TV  
Other interesting weather factoids from Jupiter:
With Jupiter's blazing fast orbital speed – a day just lasts 10 Earth hours despite its massive size – and scant friction on the surface, a dozen prevailing winds on the planet reach as high as 335 mph, according to NASA. FOX Weather figures a hypothetical rough extrapolation of Earth's Saffir-Simpson scale for hurricanes using each 20 mph increase in wind as another level beyond Category 5 would put Jupiter's winds somewhere around a Category 14 storm.
The Great Red Spot – a massive storm the size of two Earths – has been observed for at least the past 300 years, NASA said. Moreover, Juno's data estimated that some clouds extend 60 miles below their tops, with storm clouds inside the Great Red Spot calculated at 300 miles deep.
STORMS ON JUPITER GO DEEP BELOW ITS TURBULENT CLOUD TOPS, NEW STUDIES SHOW
To compare, some of Earth's largest severe storms will stretch about 60,000-70,000 feet tall or about 11 to 13 miles.
NASA said despite the massive differences in space, time and composition, learning about storms on Jupiter can still provide insights into weather patterns on Earth.
Read more of this story from FOX Weather.