Some unusual September weather events in Chicago
CHICAGO - It seems hard to believe we are into the second week of September, the first month of meteorological fall. 
September is the 4th warmest and 7th wettest month of the year on average. It's a transitional month that can still see some steamy weather but also can bring an early autumn chill to Chicago and even a taste of winter. It has been as hot as 101 degrees during the month and as cold as 29 degrees. The average high for Sept. 1 is just above 80 degrees and that drops to just below 70 degrees by the end of the month. 
September has seen its share of unusual weather events in Chicago. There has been some wild weather during the transition from summer to winter. We've dealt with torrid temperatures, tornadoes, tropical systems, waterspouts, and monstrous waves in Lake Michigan. I have selected five events that made their way into the September record books for Chicago as examples of the extremes that can come with this first month of fall.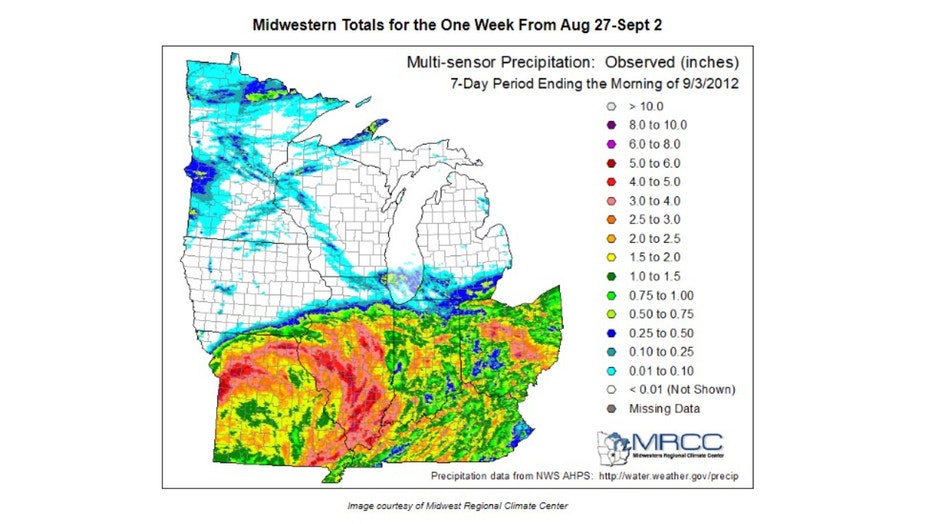 We don't often think of hurricanes impacting northern Illinois but the decaying remnants of once fierce tropical systems can nudge far enough north to bring us some nasty weather occasionally. That is what happened at the end of August and the beginning of September in 2012. Hurricane Isaac was the ninth named storm and the fourth hurricane that year. It took the lives of 41 people and caused over $3 billion in damage. The storm smashed into the coastline of Louisiana near the mouth of the Mississippi River on Aug. 29. Its remnants worked north and eastward and eventually through Illinois and Indiana from August 27th through September 2nd. It was a prolific rainmaker that dumped up to 5" in central and southern Illinois. 
Here are some of the impressive rainfall two-day rainfall totals from Sept. 1-2:
5.03" Chenoa (Livingston County)
4.33" Gibson (Ford County) 
4.13" Pontiac (Livingston County)
3.25" Kankakee (Kankakee County)
2.53" Momence (Kankakee County)
1.86" Wilmington (Grundy County)
1.85" Streator (Livingston County)
Twisters have touched down in the month of September, but it is definitely not the first month we think of when we think of tornadoes. 
The month of September ranked 8th in terms of producing tornadoes during the period of 1950 through 2020. Four years ago a tornado hit Lake County and eventually morphed into a waterspout as it moved offshore from Waukegan and into Lake Michigan. It was an EF-1 tornado with 90 mph winds that left a 3.1-mile path length that started near the Waukegan Regional Airport and ended in Illinois Beach State Park. It flipped a car causing one injury, produced minor damage to some commercial buildings, and brought down several trees.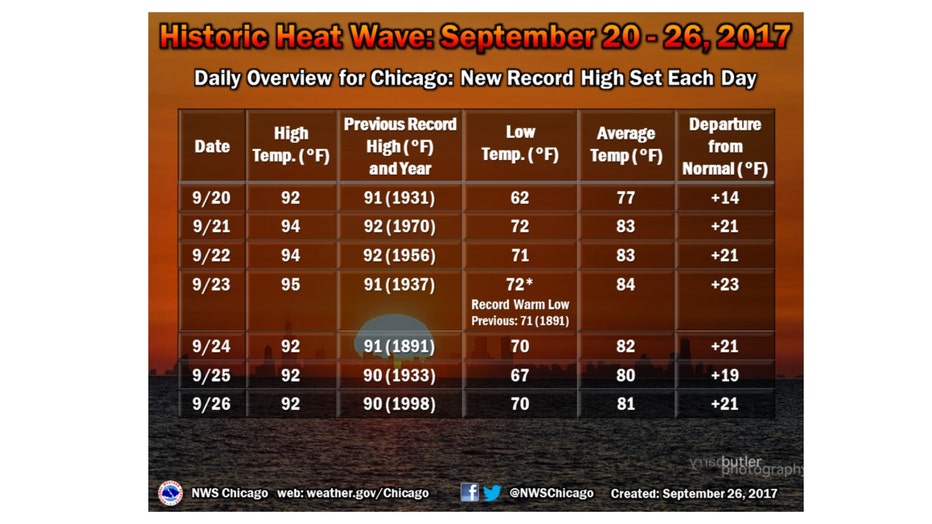 September can get steamy. One of the more prominent heat waves actually occurred fairly late in the month. There was a streak of 7 straight days with highs hitting 92 degrees or more during the period of September 20th through the 26th. There had never been a streak that hot so late in the year until six years ago. It was also only the second time in the previous 50 years there had ever been a stretch of heat like it. 
It was the latest in the year Chicago has ever recorded three straight days with highs of 94 degrees or hotter. The high of 95 degrees on Sept. 23 was the hottest of 2017. That set a record for the latest in the year that the hottest high temperature of the year was recorded in Chicago.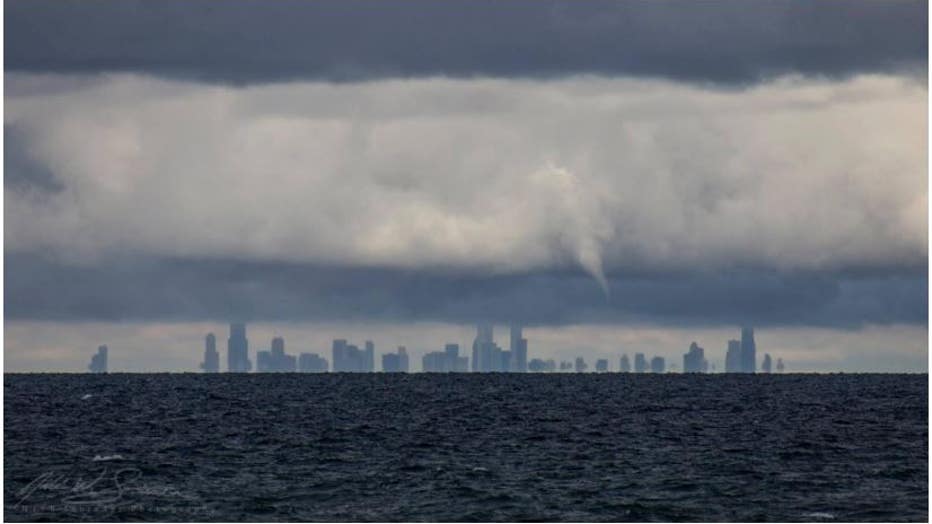 Photo courtesy of Nick Schrader from Indiana Dunes State Park
There was quite the weather show in Chicago on Sept. 28, 2016. More than a dozen waterspouts were seen spinning over southern were over a dozen sightings of waterspouts on southern Lake Michigan. Most of them could be seen from the Illinois and Indiana shoreline. I remember driving into the city that day and seeing a waterspout over the lake from a high point on the Edens Spur.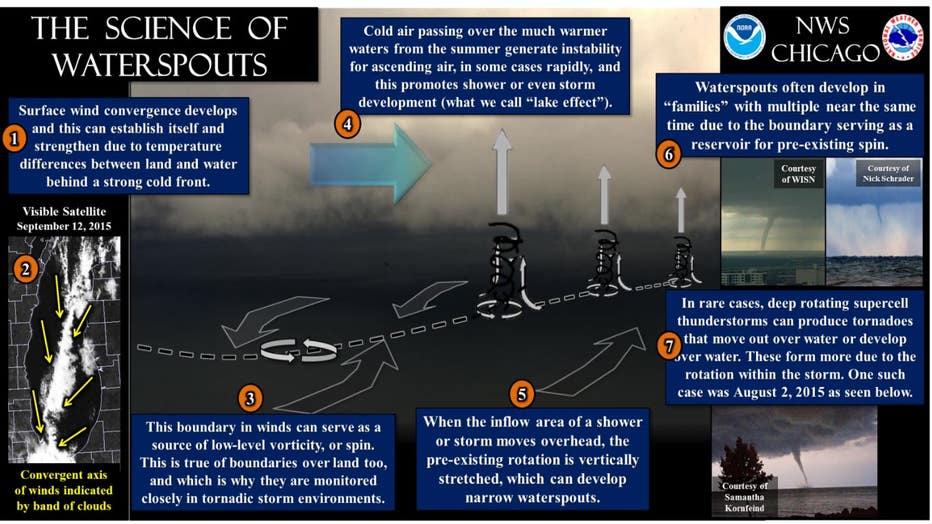 It was a classic combination of conditions that led to the development of those numerous waterspouts. The National Weather Service had hinted they were possible over 36 hours in advance of the event. Lake Michigan was also the location for another significant September weather event that occurred on September 30th of 2011. That's when strong winds whipped up monstrous waves over the southern end of the Lake.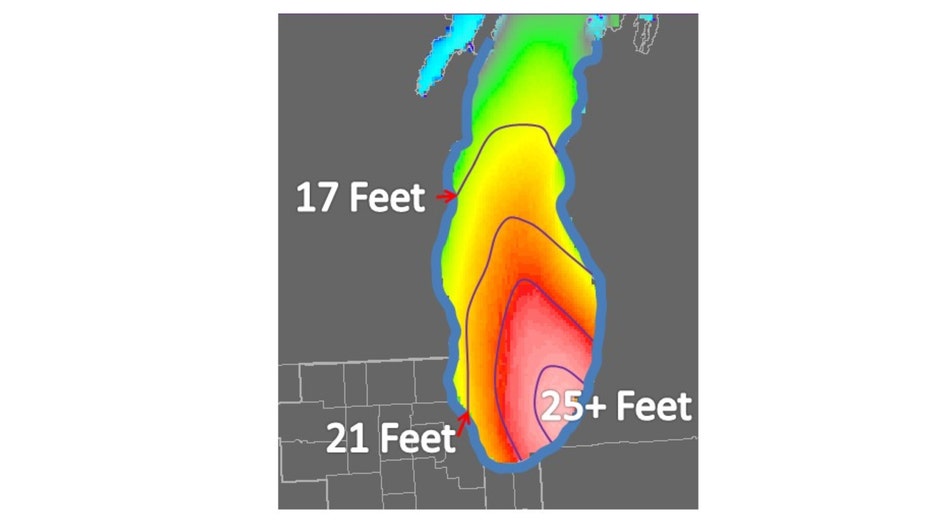 Estimate wave heights on 9/30/11
Peak wind gusts that day were impressive. Michigan City had a gust of 60 mph and the Chicago Crib had a gust of 55 mph. There was a north-northwest fetch of nearly 200 miles where the winds traveled nearly the length of the lake allowing the waves to build momentum. Waves built as high as 20 to 25 feet late September 29th and into the 30th. The captain of a tugboat at Burns Harbor in Indiana estimated 25-foot-high waves crashed over the break wall there.
So based on our September weather history, be sure to enjoy any quiet days this month offers.