What's the hottest it's ever been in Chicago?
CHICAGO - More than a dozen states have some type of excessive heat advisory, watch, or warning in effect.
Phoenix could break a record for their longest heat wave ever. They've had excessive heat warnings every day since June 30, and have hit a high of at least 110 degrees for 17 straight days. Monday should make it 18 days in a row which ties a record. They are expected to break that record on Tuesday.
Houston's hot summer continues to sizzle. Their highs will hover near 100 degrees through this weekend. That heat combined with the area's high humidity means it will feel like around 110 degrees or more.
Florida is feeling the heat both on land and in the water. The water temperature climbed close to 97 degrees near Johnson Key last week. The water temperature between the Keys and the Everglades has climbed into the middle 90s this week. Miami's heat index of 108 degrees last Tuesday broke the record for that date and marked the 7th straight day with a record-breaking heat index. It was also a record 31st straight day with a heat index over 100 degrees.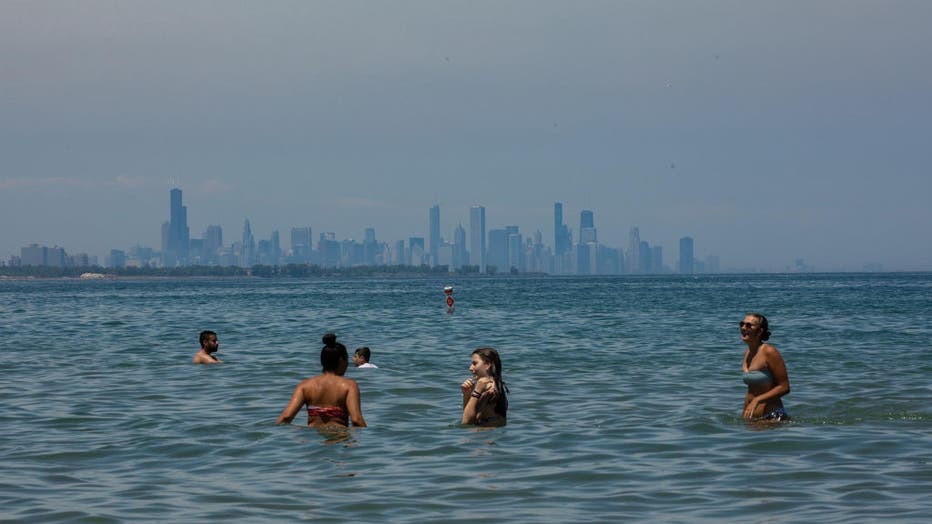 The Chicago skyline looks hazy from Whihala Beach in Whiting, Indiana, on July 2, 2020. (Zbigniew Bzdak/Chicago Tribune/Tribune News Service via Getty Images)
So while summer heat is making headlines in many parts of our country, we have yet to have even a heat advisory issued for Chicago. Heat advisories are issued here when the heat index hits 100 to 105 degrees for three consecutive days or two straight days with a heat index between 105 and 100 degrees or one day with a heat index peaking at 110 degrees or higher.
Chicago has been spared sizzling heat so far this summer, but we have seen it before. Officially, the all-time hottest high temperature was 105 degrees on July 24, 1934. That year Chicago's weather observations were taken at the University of Chicago. The city has actually been hotter. It hit 109 degrees on July 23, 1934, the hottest temperature ever recorded at a Chicago location. It occurred at Midway Airport but it was not the official weather observation station for Chicago that year.
SUBSCRIBE TO FOX 32 CHICAGO ON YOUTUBE
Chicago has hit 104 degrees three times. Chicago hit 104 degrees on June 20, 1953, June 20, 1988, and July 13, 1995. The official location for Chicago's weather records has changed several times through the years. In 1953, it was at Midway, but in 1988 and 1995 observations were taken at O'Hare. In total, Chicago has hit 100 degrees or more 65 times since records began in 1870. The last time Chicago's high was in the triple digits was back 11 years ago this month. We saw three straight days with highs above 100 degrees. The high hit 102 on July 4, 2012, and then 103 on both July 5 and July 6.
No signs of extreme heat in our immediate future. The longer-range temperature outlooks from the Climate Prediction Center start off suggesting a cooler pattern and then a transition to a warmer one.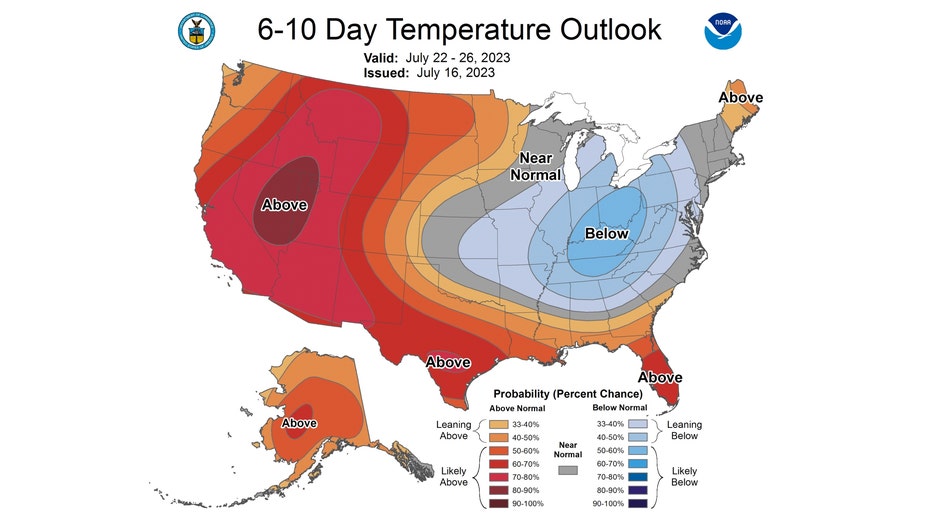 The 6-10 day temperature outlook has us "leaning below" normal from Saturday through the following Wednesday. Average highs this time of the year hit the middle 80s.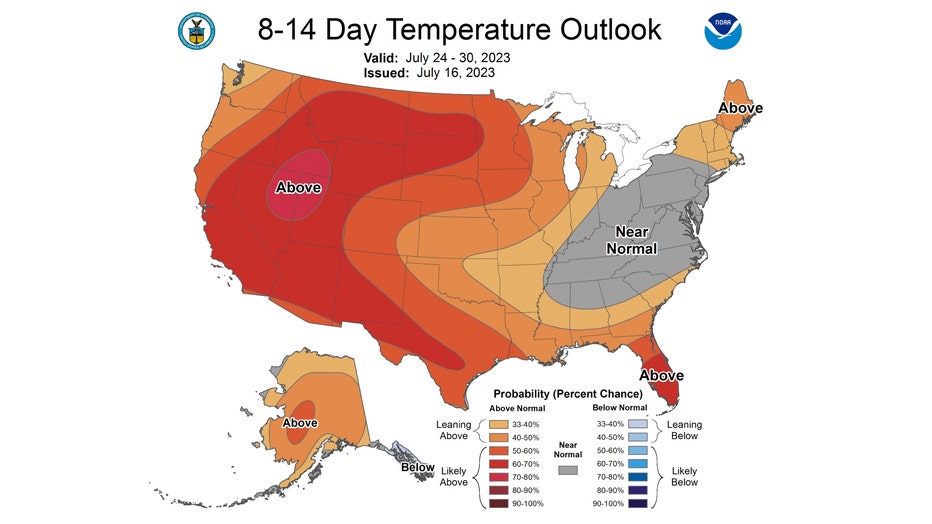 The 8-14 day temperature outlook has us "leaning above" normal overall. It covers the period from next Monday through the following Sunday. Our Fox Model 10-day outlook corroborates this forecast.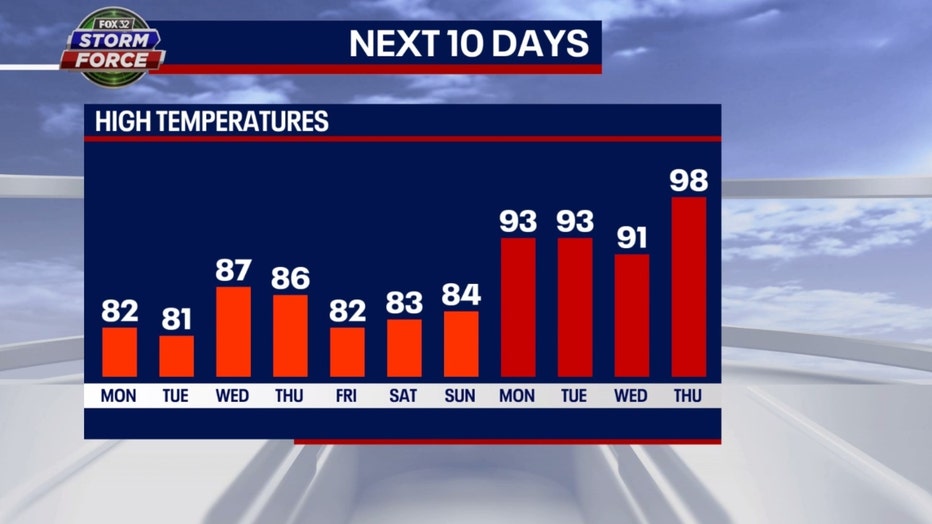 Our model shows us spiking to 93 next Monday and staying in the 90s through the following Thursday. It has us coming close to hitting 100 for the first time since 2012. Please take this with a grain of salt though because I have seen the model hint at high heat at the end of its range only to end up much cooler than forecast in reality.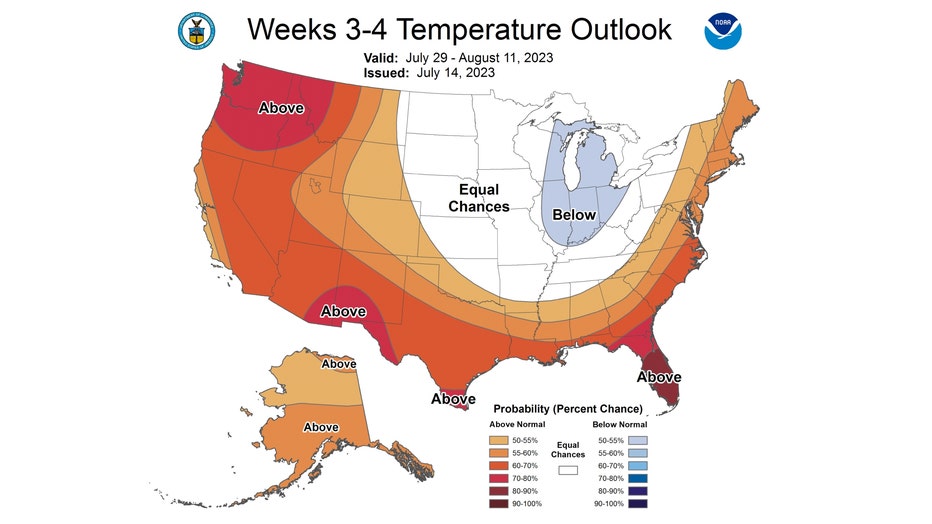 The even longer range temperature outlook from the Climate Prediction Center keeps us cooler than average overall for the end of July and start of August.