4 killed, 15 wounded in Chicago shootings over MLK holiday weekend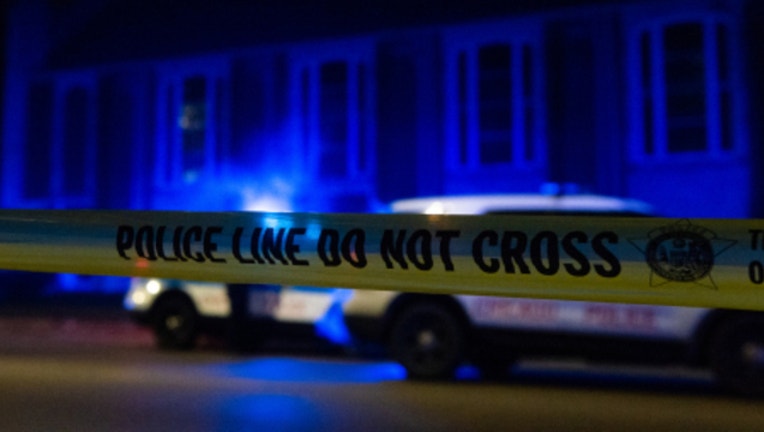 CHICAGO (Sun-Times Media Wire) - Gun violence in Chicago left four people dead and at least 15 others wounded over the three-day Martin Luther King Jr. holiday weekend.
Two were wounded Friday evening, and three were murdered within a 90 minute span early Saturday during a blustery winter storm. On Sunday, one person was killed and four others wounded. On Martin Luther King Jr. Day, a 13-year-old boy was wounded by three gunmen who opened fire on his rideshare car on the Far South Side.
Sunday morning, police were left with few clues when a teenage boy was found shot to death in a South Side apartment stairwell.
Tion Anderson, 18, was shot about 10:30 a.m. on the third floor of a building in the 1600 block of West 79th Street, Chicago police and the Cook County medical examiner's office said. Anderson fell and was found on the second floor landing, authorities said.
Neighbors called police, who found Anderson with a gunshot wound to his head, police said. He was pronounced dead at the scene.
Police said there were no witnesses to the shooting, and offered no description of the shooter.
Saturday morning, woman was discovered with a fatal gunshot wound in the Avondale neighborhood on the Northwest Side, according to police. At 1:35 a.m., officers found her lying inside an apartment hallway in the 3900 block of West Roscoe. She had a bullet in her head and was pronounced dead on scene.
Witnesses heard the woman, whose age was unknown, arguing with someone before gunshots rang out, police said. The medical examiner's office has not released her identity.
That same hour, two people were shot, one fatally, in the Little Village neighborhood on the Southwest Side, police said. At 1:05 a.m., a 22-year-old man driving with a 19-year-old female passenger was stopped at a red light in the 2100 block of South Rockwell. Someone in a dark sedan pulled up and unleashed gunfire at them.
Elena Sada, 19, of Lyons, was struck multiple times in the head and pronounced dead at the scene, police and the medical examiner's office said. The man was shot in the left arm and taken to Mount Sinai Hospital.
Another murder was uncovered early Saturday in the Gresham neighborhood on the South Side. At 12:02 a.m., officers responding to a call of shots fired in the 1800 block of West 87th Street found Terrance E. Ross, 39, lying in an alley, according to Chicago police and the medical examiner's office. He was shot in his head, police said.
Ross was pronounced dead on the scene at 12:18 a.m., authorities said. He lived in the Morgan Park neighborhood.
In other weekend shootings, a 14-year-old boy was shot while exiting a rideshare vehicle Sunday morning in the Fernwood neighborhood on the Far South Side.
At 2:28 a.m., the teen was about to get out of the vehicle after being driven to a residence in the first block of West 105th Street, police said. Three males began talking to him and, as the conversation progressed, fired gunshots. The 13-year-old was grazed in the head by a bullet and taken to Comer Children's Hospital. The rideshare driver was not injured, but the vehicle was riddled with bullets as a result.
Shooters unleashed gunfire at three people, leaving one in critical condition, Sunday morning in the West Englewood neighborhood on the South Side. Two men, ages 21 and 18, and a 16-year-old boy were standing inside an alley outside a home at 2:11 a.m. in the 6700 block of South Honore Street, police said. Several males walked up and began shooting.
The 18-year-old was shot in the abdomen and taken in critical condition to University of Chicago Medical Center, police said. The older man had a gunshot wound in the left leg and was also brought there. The boy was shot in the right buttocks and taken to Christ Medical Center in Oak Lawn.
Gunfire wounded four people Saturday morning in the West Garfield Park neighborhood on the West Side.
At 2:01 a.m., three women and one man were "involved in a fight on the street" in the 4400 block of West Madison when gunshots rang out, police said. It was unclear who the shooter was.
The three women — ages 26, 28 and 35 — were all shot in the leg and taken to Stroger Hospital, police said. The man, 44, was grazed in the right thigh and walked into West Suburban Hospital in Oak Park.
The holiday weekend began at 5 p.m. Friday concludes at 5 a.m. Tuesday.
At least 25 people were wounded by gunfire during last year's Martin Luther King Jr. weekend, none fatally.
Last weekend, at least 11 people in Chicago were shot, three fatally.