Chicago family files lawsuit after toddler dies in bike crash: 'the city has to care'
CHICAGO - A Chicago family filed a lawsuit Tuesday after their 3-year-old daughter was killed in a bike crash involving a semi-truck in the city's Uptown neighborhood last June.
In the wrongful death lawsuit, the child's parents are alleging negligence on the part of the city, ComEd, and others for failing to keep a bike lane clear – leading to the accident.
"On behalf of our little girl, Lily, no words can express our devastation on losing her last June. In her honor, we are forever committed to making Chicago a safer biking community so that her death wasn't in vain," Tim Shambrook and Kate Snow, the parents of Lily, said in a statement.
On June 9, 2022, Shambrook and his wife were riding their bicycles on Leland Avenue – a designated greenway – with Lily sitting in a carrier on her mother's bike as Shambrook followed.
As they traveled eastbound and approached Winthrop Avenue, attorneys for the family say a ComEd truck was illegally parked in the bike lane.
Lilly's mom veered out of the bike lane to avoid the truck. Police say she lost control of her bike and collided with the cab of a Mondelez truck traveling in the same direction.
As their bike was knocked to the ground, Lily was struck by the truck and killed.
SUBSCRIBE TO FOX 32 ON YOUTUBE
"We filed a lawsuit in this case to try to find justice for Lily," said Bradley M. Cosgrove, partner, Clifford Law Offices. "The ComEd obstruction led to creating a situation where there was no other place for the bicyclist to go other than into the lane of travel."
The accident happened about five miles from the couple's home.
"We have hired Clifford Law Offices to investigate what occurred on June 9, 2022, when a Commonwealth Edison truck was parked blocking the bicycle lane painted on the street while other large vehicles were still allowed to also be in the same area with repairs going on in a residential neighborhood," Lily's parents said. "People have to care. The city has to care. Corporations have to care. They all need to respect bicycle lanes and the bicyclists using them. Hopefully, this lawsuit will open the eyes of many because we would never want this tragedy to happen to any other family anywhere."
Now, Lily's family is joining the large effort to increase safety for cyclists and pedestrians.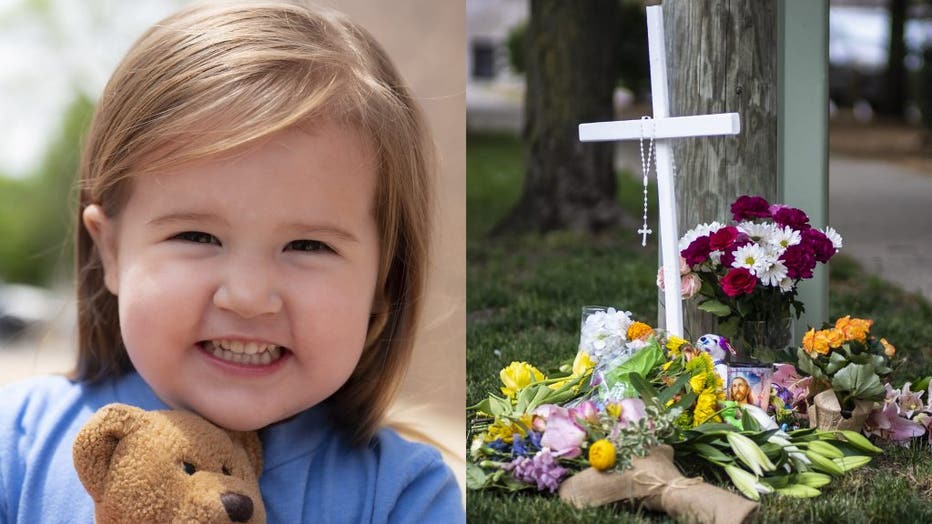 A memorial sits at the corner of North Winthrop and West Leland avenues, where 3-year-old Lily Grace was killed in a bicycle crash with a truck in the Uptown neighborhood bike lane, June 10, 2022. | Ashlee Rezin/Sun-Times
"Cyclist deaths are now double what they used to be and instead of it getting safer for the biking community, we are seeing it get more and more dangerous," said Christina Whitehouse, Bike Lane Uprising founder.
Along with Whitehouse, Kyle Lucas, who co-founded Better Streets Chicago is also seeking infrastructure changes to protect bikers.
"When these sorts of curbs are not in place, we'll see a lot more people parking in bike lanes," said Lucas. "But they aren't quite enough, our position is that they should rapidly roll out a system that we can later upgrade to gold standard designs."
In response to the wrongful death lawsuit, a spokesperson with the City of Chicago's Department of Law said, "the City has not been served with the complaint and does not comment on pending litigation."
Penske, also named in the lawsuit, issued the following statement to FOX 32 Chicago: 
"Penske is reviewing this matter. However, we cannot comment on pending litigation."
A spokesperson with Mondelez International said: "Our hearts go out to the family who continue to mourn the loss of their daughter. Out of respect for their privacy and the continuing investigation, we have no additional comment at this time."
The Sun-Times Media Wire contributed to this report.