Chicago Public Schools recognizes outstanding school crossing guards
CHICAGO - Chicago Public Schools honored crossing guards on Thursday for Crossing Guard Appreciation Day, recognizing their vital role in ensuring the safety of students during their daily commutes.
The event included an award ceremony, highlighting the dedication and skills of crossing guards.
CPS CEO Pedro Martinez expressed gratitude for their important work, emphasizing their role in keeping students safe as they navigate busy intersections.
"Ensuring our students succeed starts before they ever enter our classroom doors and school crossing guards are an integral part of that strategy," he said.
SUBSCRIBE TO FOX 32 CHICAGO ON YOUTUBE
In March, the school district launched the Crossing Guard of the Year competition, selecting four guards from different regions of the city for their outstanding service.
This 2023 School Crossing Guards of the Year are:
Brianna Wright, Far South, covers 42nd St. & St. Lawrence for Fuller Elementary School
Consuelo Reyes, Central West, stands at 27th St. & Kostner for Zapata Elementary Academy
Marquetta Jones, Southwest, helps at 55th St. & Rockwell for Carson Elementary School
Gwenette Scott, North, supports Kemper and Geneva Terrace for Lincoln Elementary School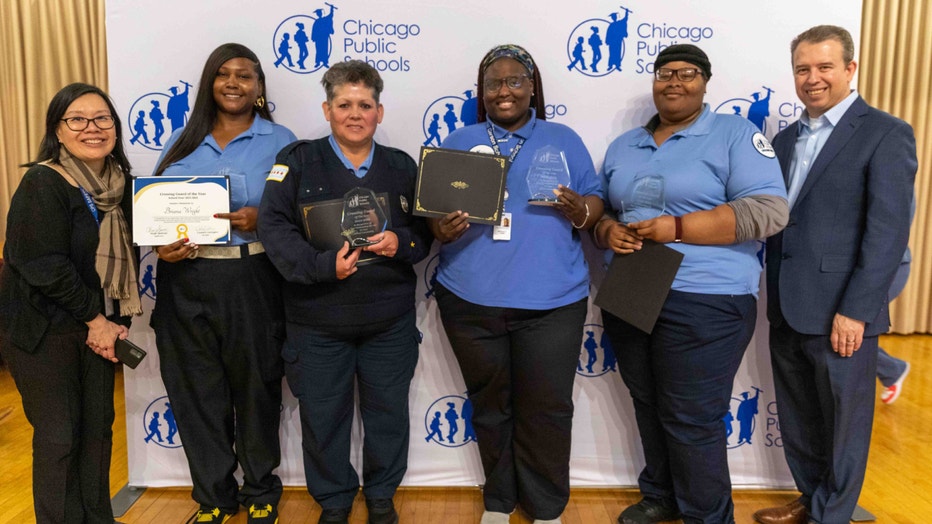 Crossing guards left to right: Brianna Wright, Consuelo Reyes, Marquetta Jones, Gwenette Scott
The event also acknowledged the contributions of over 700 CPS crossing guards and their commitment to student safety.
"I am proud to recognize this dedicated group of CPS employees and thank them for their service today and every day," said CPS Chief Safety and Security Officer Jadine Chou.