Obese cat covered in pounds of matted fur recovering in new home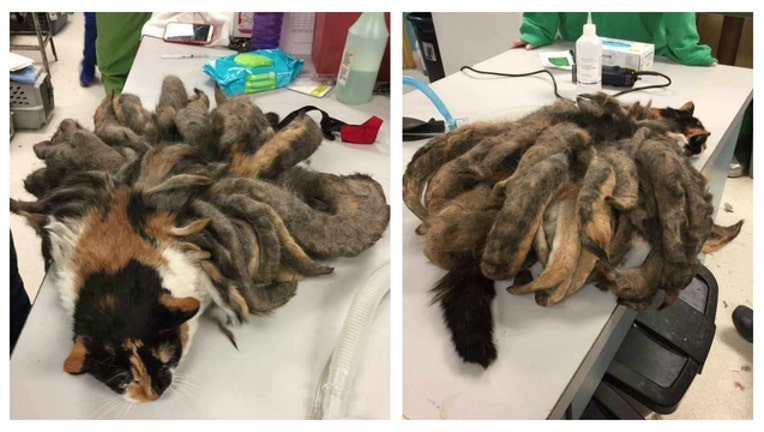 article
FOX NEWS - Relatives of an 82-year-old Alzheimer's patient were under the impression that only one beloved pet cat had to be looked after when the home was vacated, but a trip to check on the animal gave them quite a shock.
"Out from under a bed it darted," Paul Russell, the patient's relative, told PEOPLE. "At first I thought it was a cat that had a blanket on top of it. The next day I went into the creepy old cellar and it was hunkered in a corner. I thought, 'My God, this is a cat.'"
What the Churchill, Pennsylvania, man had found was a 14-year-old cat, now called 'Hidey,' that had grown too obese to groom itself. The result was years' worth of matted fur that disguised the cat's identity.
Russell took Hidey and the cat he had known about previously, Siam, home to his wife Jill and they made an appointment with the Animal Rescue League Shelter & Wildlife Center. The center shaved off Hidey's matted fur and said the animal is an example of what can happen when pets of elderly relatives aren't checked on frequently.