Riot Fest reveals 2023 daily lineup — see it here
CHICAGO - Riot Fest has revealed its daily lineup up for 2023.
The opinions on the upcoming Riot Fest lineup vary, with a mix of anticipation and irritation.
Meanwhile, some neighborhood residents believe the festival causes too much noise, traffic, and cleanup, while others are excited for the live music and revenue that the event will bring to local businesses.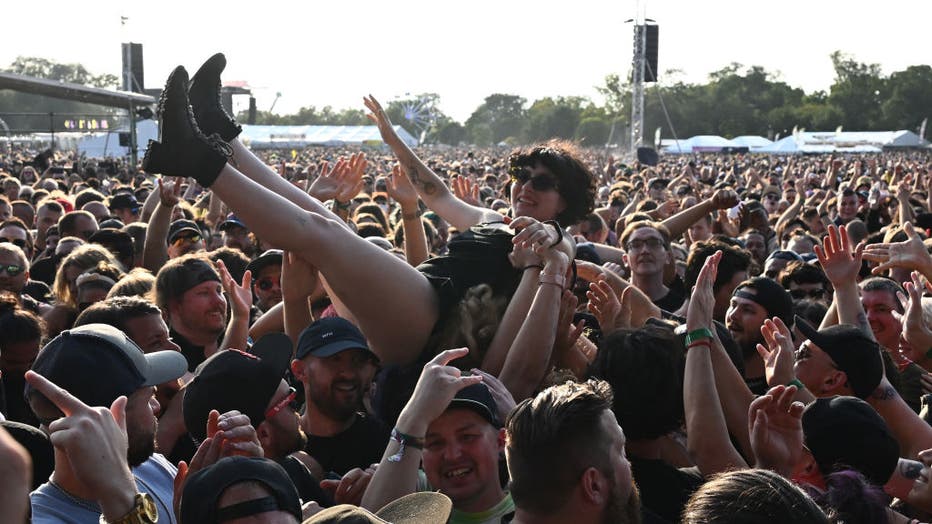 CHICAGO, ILLINOIS - SEPTEMBER 16: A fan crowd surfs while Descendents perform during Riot Fest 2022 at Douglass Park on September 16, 2022 in Chicago, Illinois. (Photo by Daniel Boczarski/Getty Images)
The Riot fest will be a three-day event at Douglass Park on Chicago's West Side.
All ticket options are on sale now:
Three-day pass: $289.98+
Two-day pass: $189.99
Single-day tickets: $89.98+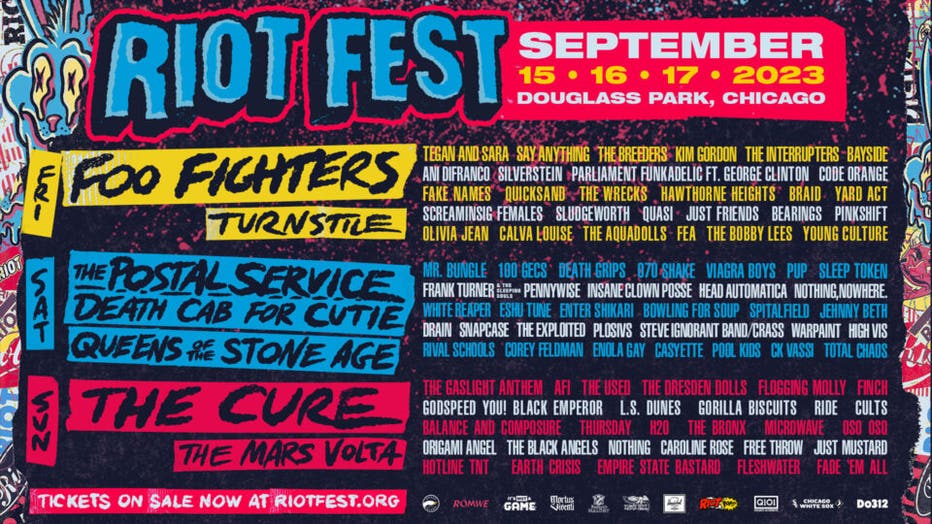 Riot Fest flyer including lineup. (riotfest.org)
Here are the lineups:
Friday, September 15
Headliners: Foo Fighters, Turnstile
Tegan and Sara
Say Anything
The Breeders
Kim Gordon
The Interrupters
Bayside
Ani DiFranco
Silverstein
Parliament Funkadelic ft. George Clinton
Code Orange
Fake Names
Quicksand
The Wrecks
Hawthorne Heights
Braid, Yard Act
Screaming Females
Sludgeworth
Quasi
Just Friends
Bearings
Pinkshift
Olivia Jean
Calva Louise
The Aquadolls
FEA
The Bobby Lees
Young Culture
Saturday, September 16
Headliners: The Postal Service, Death Cab For Cutie, Queens of the Stone Age
Mr. Bungle
100 Gecs
Death Grips
070 Shake
Viagra Boys
PUP
Sleep Token
Frank Turner and the Sleeping Souls
Pennywise
Insane Clown Posse
Head Automatica
Nothing,Nowhere
White Reaper
Eshu Tune
Enter Shikari
Bowling for Soup
Spitalfield
Jehnny Beth
Drain
Snapcase
The Exploited
Plosivs
Steve Ignorant Band/Crass
Warpaint
High Vis
Rival Schools
Corey Feldman
Enola Gay
Casyette
Pool Kids
CK Vassi
Total Chaos
Sunday, September 17
Headliners: The Cure, The Mars Volta
The Gaslight Anthem
AFI
The Used
The Dresden Dolls
Flogging Molly
Finch
Godspeed You! Black Emperor
L.S. Dunes
Gorilla Biscuits
Ride
Cults
Balance and Composure
Thursday
H2O
The Bronx
Microwave
Oso Oso
Origami Angel
The Black Angels
Nothing
Caroline Rose
Free Throw
Just Mustard
Hotline TNT
Earth Crisis
Empire State Bastard
Fleshwater
Fade 'em All
On Wednesday, the Chicago Park District approved the permit for Riot Fest to take place at Douglass Park – but not without controversy.