Romeoville family shot to death in their home was targeted, police say
ROMEOVILLE, Ill. - Romeoville police have revealed new details in the mysterious murders of two young boys and their parents.
Officials, on Tuesday, announced that based on a "tremendous amount of physical evidence" collected at the scene, detectives have determined the attack was targeted, and "not a random incident."
Police said two adults and two children were shot and killed in their home, located in the 500 block of Concord Avenue, over the weekend. The family's three dogs were also fatally shot.
More than 48 hours after their bodies were discovered during a well-being check, there is still no word on whether or not police have zeroed in on any suspects.
Meanwhile, officers continue to monitor the family's home, which is surrounded by police barricades. There, a festive sign hangs on the door of a family that won't be here to celebrate the change of seasons.
"We will continue to exhaust every possible resource available and we will not rest until those responsible for this tragedy are brought to justice," said Deputy Chief Chris Burne with the Romeoville Police Department. "This incident is the police department's top priority."
Murder-suicide was ruled out early in the investigation, and police believe the gruesome killings took place between 9 p.m. Saturday and 5 a.m. Sunday.
The adults were identified as 38-year-old Alberto Rolon and 32-year-old Zoraida Bartolomei. Loved ones, on Tuesday, identified their children as Adriel, 10 and Diego, 7.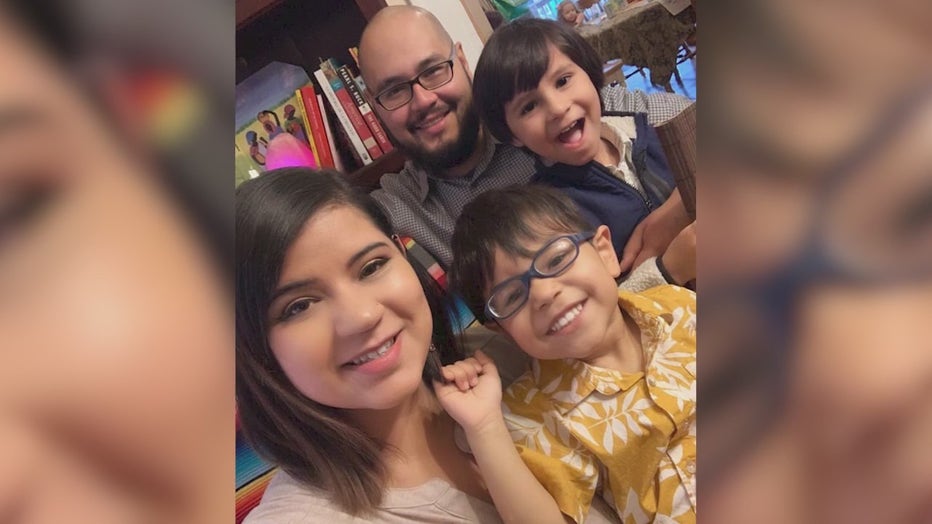 Countless questions remain about who killed the young family and why.
"With them having two little kids, it just seems unreal," said Samantha Allen.
Allen, a community member, has two daughters. On Tuesday, her heart called her to the scene to light a candle. She expressed hope that those responsible are quickly apprehended.
"They're sick and they don't have a heart," said Allen.
Hearts of the family are now shattered, as the description for a GoFundMe account states that "the world is going to be a much dimmer place without them."
SUBSCRIBE TO FOX 32 ON YOUTUBE
Neighbors say the family had just moved into the neighborhood a few months ago.
Carol Love, a neighbor, said she had last spoken with Bartolomei on Friday. They talked about how one of the children had grown his hair to cut and donate it for a children's cancer awareness campaign.
Love said the family was a friendly group who made a concerted effort to be kind neighbors, including making sure their dogs weren't too loud.
"It's so sad. They were nice people. They didn't bother anybody," Love said, fighting back tears. "I hope they find out who did it."
Another neighbor said that not knowing what happened keeps her awake at night. She said in the months they lived there, she observed a loving family with both parents working.
However, she and others were surprised that no one heard anything the night the victims were shot.
School officials confirmed the boys attended Robert C. Hill Elementary School nearby. The difficult news was shared through an email to families from Supt. Rachel Kinder of Valley View School District.
"We are deeply saddened by this tragedy and will do everything we can to support your child, your family, and the safety of our school community," Kinder said.
Crisis counselors are being provided at the school. Additionally, social services are available at the Romeoville Police Department for community members struggling to cope with the crime.
Romeoville Mayor John Noak released the following statement on Tuesday:
"Our entire community is grieving with the family over this tragic incident. It is always heartbreaking whenever there is a loss of life, but when there are children involved it's much more painful. I have directed our social services staff to make themselves available to our community to help begin the healing process. It is important that we conduct a thorough investigation and we have committed our full resources to that task. The victims deserve that."
The Will County Major Crimes Task Force is assisting with this investigation.
Meanwhile, police are asking neighbors to check their Ring doorbell footage for anything that may helpful to police.
Anyone with information on the murder case, even if they're not sure that it's relevant, is urged to contact the Romeoville Police Department at 815-886-7219.
The Sun-Times Media Wire contributed to this report.