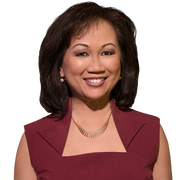 Joanie Lum has more than 20 years of experience reporting for Chicago-area stations, most recently serving for six years as a general assignment reporter for WBBM-TV. Prior to that, she spent 16 years as a general assignment reporter for WGN-TV.
Earlier in Lum's career, she spent a year as a reporter, anchor, producer and weathercaster at WREX-TV in Rockford, Illinois. Before that, she was an associate producer for one year at KFVS-TV in Cape Girardeau, Missouri. Her first broadcasting job was reporting for the student-run, commercially-owned KOMU-TV in Columbia, Missouri.
Throughout her career, Lum has interviewed numerous newsmakers, most notably His Holiness the Dalai Lama during his 1996, 1999 and 2007 Chicago visits. She was part of the team that earned the 2008 Chicago Emmy Award for Spot News for coverage of the NIU shootings, as well as the 2005 National Emmy Award for Outstanding Coverage within a Newscast for "Farewell to the Pope." She was also honored with two Emmy Awards for her work on the 2003 and 2004 Chicago Marathon broadcasts.
From 2000-2001, Lum wrote a column for the Chicago Tribune, "Adventure Shopping with Joanie Lum," chronicling her experiences hosting the WGN-TV segment, "Around Town."
A graduate of the University of Missouri in Columbia, Lum holds a Bachelor's degree in Journalism. She is a past president of the Asian American Journalists Association's Chicago chapter and is currently an advisory board member of the Chinese American Service League, Inc.
The latest from Joanie Lum