TSA stopped 49 firearms at Chicago airports in first half of 2023
CHICAGO - The Transportation Security Administration has intercepted 49 firearms at airport security checkpoints in Chicago as of June 30, which marks the first half of 2023, according to an agency news release.
During the same period in 2022, 60 firearms were stopped at O'Hare and Midway international airports, according to TSA officials.
In the first five days of July 2023, TSA agents have intercepted additional firearms at both airports, the release said.
"As summer travel ramps up, we continue to see far too many passengers bringing firearms to the checkpoint," Illinois TSA Federal Security Director Dereck Starks said. "This is a careless, expensive mistake that introduces unnecessary risk into the crowded checkpoint environment. We hope to see these figures decline in the second half of the year."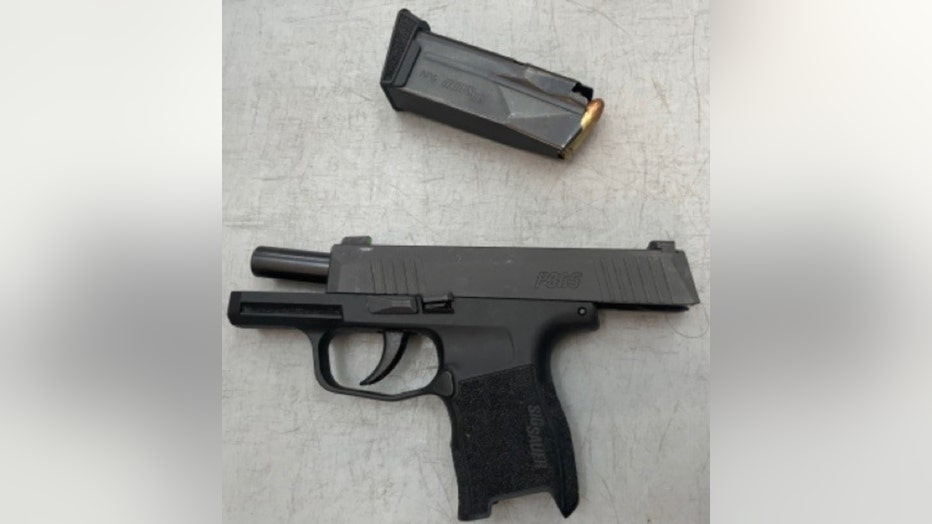 This handgun was detected by TSA officers in a passengers carry-on bag at Chicago OHare International Airport (ORD) on July 2, 2023. (TSA photo)
Nationwide, TSA officers stopped approximately 3,251 firearms at airport security checkpoints as of June 30, the statement said. TSA agents have intercepted 90 additional firearms as of July 5, bringing the 2023 total to 3,341 as of July 5.
On average, 18 firearms were seized a day, the TSA said, and of those firearms, more than 92% were loaded.
The number of guns found at airport checkpoints for the first half of 2023 has increased compared to the first half of last year. Of the 3,053 firearms seized during the first half of 2022, 86% were loaded.
SUBSCRIBE TO FOX 32 ON YOUTUBE
The number of firearms caught during airport checkpoints in the first half of 2023 has increased 6% compared to the first half of 2022, but the TSA also noted that the volume of passengers traveling through airports has increased 15%.
These percentages actually show a decline in the number of firearms being brought through airport security checkpoints in 2023 thus far, the TSA said.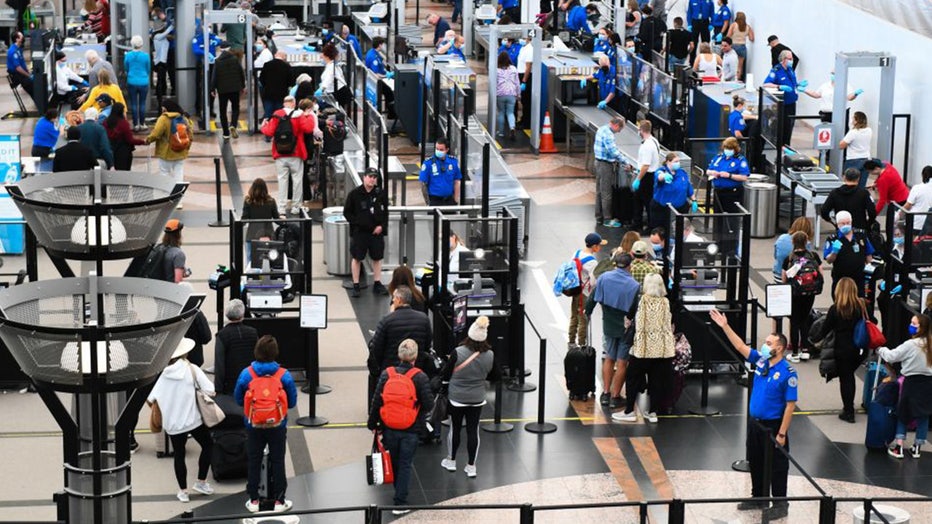 fa20d180- fa20d180- FILE - Airline passengers wait at a Transportation Security Administration (TSA) checkpoint to clear security before boarding to flights in the airport terminal in Denver, Colorado on April 19, 2022. (PATRICK T. FALLON/AFP via Getty Images / Getty Images)
Passengers who wish to travel with a firearm must ensure it is properly packed and it must be checked. Additionally, travelers must declare that they have packed a firearm at the ticket counter.
"Passengers who bring a firearm to the security checkpoint present a security risk, and there are consequences for doing so," Pekoske said.
Firearm possession laws vary depending on the state and local governments but firearms are prohibited at TSA security checkpoints, in secure areas of an airport and on board the aircraft, even if the traveler has a concealed carry permit, the agency said.
For more information about how and what travelers can bring with them or must get checked at airports, click here.
Firearms caught by TSA at Illinois airport checkpoints, Jan.1-June 30, 2023:
O'Hare International Airport (ORD): 25
Midway International Airport (MDW): 24
Quad Cities International Airport (MLI): 3
MidAmerica/St. Louis Airport (BLV): 3
Central Illinois Regional Airport (BMI): 0
General Wayne A Downing International Airport (PIA): 0
Chicago Rockford International Airport (RFD): 2