Ukrainian veterans visit Chicago school, inspire students during patriotic assembly
CHICAGO - In honor of Memorial Day, 10 wounded and recovering Ukrainian veterans who are in Chicago to participate in weekend events visited with local school children.
A Friday afternoon assembly at St. Nicholas Cathedral School was filled with patriotic music, both American and Ukrainian, along with prayers for those serving our country and fighting to protect the freedom of Ukraine.
Held in partnership with Chicago Sister Cities, the principal of St. Nicholas Cathedral School says it was important for her students to understand the true meaning of Memorial Day.
"We wanted to make sure that they understand why they have the day off on Monday. That it's not actually just all about barbecues and having fun, but remembering people that have given their lives so that we can have freedom here," said Anna Cirilli, principal, St. Nicholas Cathedral School.
During the assembly, students heard from some of the wounded Ukrainian veterans who are in Chicago to offer their respect on Memorial Day.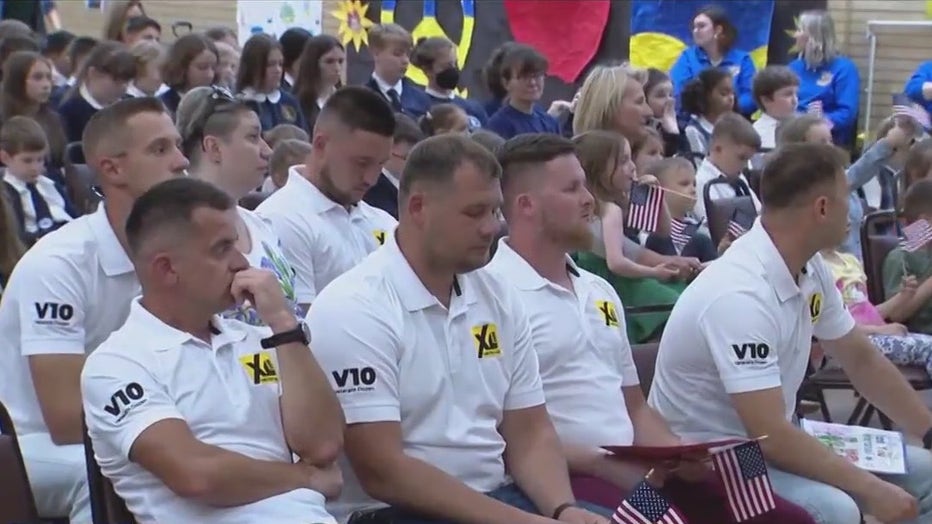 "It is really emotional to see a lot of these people sacrificing their life," said Uliana Rybak, an 8th-grade student. "It's really important to acknowledge these people."
Students began the assembly with a ceremonial offering of bread and salt to welcome the guests of honor.
"I must say thanks for American people who can give a chance for my motherland, for my native country, for these kids, for our parents and for us," said Vadym Korobenko, a Ukrainian veteran.
Revived Soldiers Ukraine, which offers medical rehab to Ukrainian soldiers, is also playing an integral role in offering their support.
"One of them got both legs above the knee in Orlando, and he came here for eye surgery, he lost his vision," said Iryna Discipio, president, Revived Soldiers Ukraine. "Whenever we can find medical facilities or rehabilitation centers, or prosthetic companies who can provide world-class medical assistance to our guys, that's what we need, because the injuries are insane."
The assembly blended patriotism for the United States and for Ukraine.
Children even performed a song that dates back more than 100 years. Ukrainians would sing it during their fight for freedom, and it regained popularity last year during the Russian invasion.
"It's very impactful, it means a lot, I think to me as a leader to see these men come show their patriotism for their country, that they're willing to stand up for their rights, their freedom, it's important for our kids to see that," said Cirilli.
Since last February, the school has enrolled more than 100 refugee children from Ukraine, and many of them are still in attendance. St. Nicholas Cathedral School continues to fundraise for the Ukrainian students who are now calling Chicago home.
For more information, click here.
On Saturday, those Ukrainian veterans will be participating in the Soldier Field 10, which includes a 10-mile and 10K race to honor wounded and fallen heroes.
Proceeds from the event benefit the Road Home Program.