Unfathomable cold from polar vortex: Mt. Washington, New Hampshire, hits -100 degrees wind chill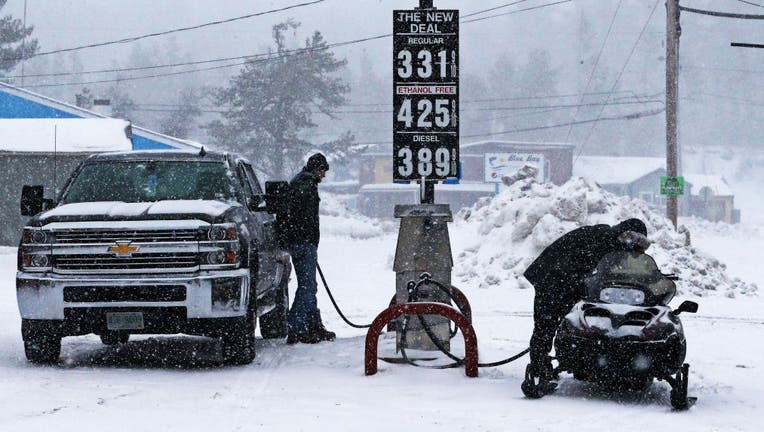 article
MOUNT WASHINGTON, N.H. - Hurricane-force wind gusts will peak as high as 140 mph. Temperatures will plunge to life-threatening values, with the wind chill dropping to 100 degrees below zero.
Those are some of the warnings and impacts for Mount Washington in New Hampshire, the highest peak in the northeastern U.S. at 6,288 feet in elevation. 
The coldest temperature recorded on Mt. Washington was -47 degrees in 1934, but given current weather conditions, the record might soon be broken.
"I think we'll get close to it, and perhaps even exceed it and go down as low as 50 degrees below zero overnight, between midnight and 3 a.m.," said Francis Tarasiewicz, meteorologist at the Mt. Washington Observatory.
The National Weather Service in Portland/Gray, Maine, said an unusual phenomenon for its area of responsibility is possible Friday night as the tropopause – the boundary between the troposphere, where our weather occurs, and the stratosphere, the layer of the atmosphere above the troposphere – could dip below the peak of Mount Washington. 
While extremely rare, the impact of this is that wind speeds are likely to increase Friday night as the winds become more compressed through the lowest levels of the atmosphere, the NWS said.
According to Tarasiewicz, he and his team at Mt. Washington will literally be able to sniff out the different layer of atmosphere. 
"We'll be able to actually detect the smell of ozone, since that's where the highest concentrations of ozone are in the atmosphere, the lower stratosphere in particular," he said. "So, we'll look out for a sort of a bleach-y type of smell."
At the Mount Washington Observatory, forecasts say the coldest air from the center of the polar vortex will move through the region Friday night, which will also coincide with the period of highest winds. As a result, wind chills will drop to 100 to 110 degrees below zero Friday night.
"Combined with the bitterly cold temperatures, wind chill values likely fall to as low as -60 across northern areas, and -40 to -45 along the coastline," the NWS said in a recent forecast discussion for the lower elevations of northern New England. "So we are nearing wind chills values that most have not seen in their lifetime."
The Mount Washington Observatory said the highest winds will occur sometime between Friday night and Saturday morning as sustained winds ramp up to 100 to 115 mph, with gusts up to 135 mph. 
"Higher gusts are not completely out of the question, with the possibility for winds to peak as high as 140 mph very early Saturday morning," the observatory said in its latest summit forecast.
The observatory said the dangerously cold wind chills will create life-threatening conditions for those hoping to travel to the higher summits. 
Due to the harsh cold conditions, a Wind Chill Warning will remain in effect until 1 a.m. EST Sunday.
GET UPDATES ON THIS STORY AT FOXWEATHER.COM