Video shows aftermath of house explosion in northwest Indiana
INDIANA - Bodycam footage was released Wednesday that shows the moments after a house exploded in September in Porter, Indiana.
In the video, you can see bystanders and police rushing to help rescue a 3-year-old girl and at least one adult who were trapped under the rubble.
The child was transported by helicopter to Comer Children's Hospital in Chicago for treatment.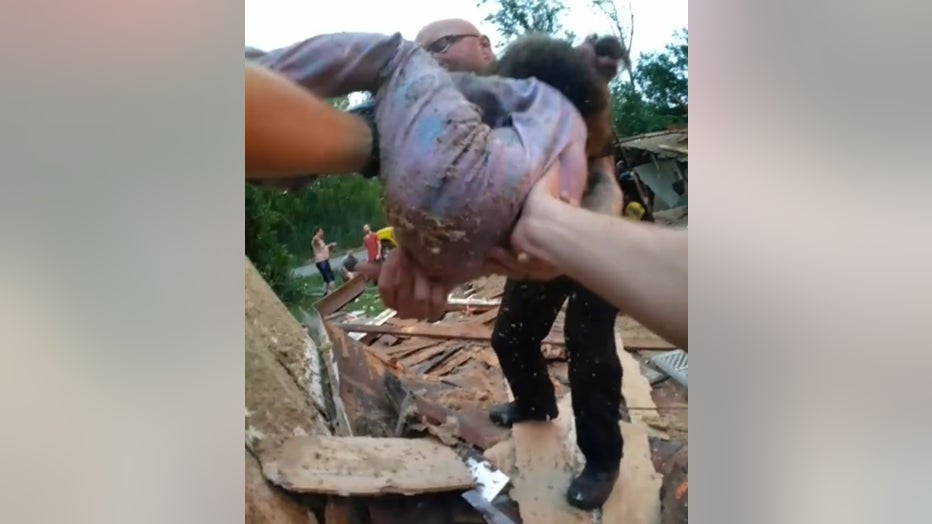 Police rescue 3-year-old girl from rubble of collapsed house after explosion in Porter, Indiana.
"We had several bystanders and law enforcement and through a collective effort of all of them, we were able to find the three-year-old and get her out into an awaiting ambulance. Also during that search they found another female that was still trapped in the building and they were able to get her out," Porter Fire Department Chief Jay Craig, Jr. said back in September.
Other adults injured in the explosion were transported to local hospitals for treatment.
The explosion -- caused by natural gas -- occurred at a single-family home in the 400 block of North First Street, the Northwest Indiana Times reports. Seven people were injured, including the child.
The video was released as the Porter County sheriff's office bestowed its Medal on Honor to Lt. Van Kley, who played a critical role in rescuing the family in the Sept. 10 incident.
Kley heard the call of the explosion over the radio and was one of the first responders to arrive, the sheriff's office said in a statement
At the scene, Kley heard screams coming from the wreckage and found the child trapped under debris, police said. Video shows him freeing the child's leg and pulling the child to safety.
Seconds later, Kley found a woman stuck under wreckage on the other side of the home and called out, "All hands on deck." He and other responders lifted a piece of collapsed roof and pulled the woman to safety.
"It was nothing short of a miracle that we were close by," Kley was quoted as saying in the statement.
Two other responders, Sgt. Piazza and Sgt. Murray, were given Life Saving Awards for their role in the incident, police said.
It's the third time the Porter County sheriff's office has issued its Medal of Honor.
Sun-Times Media Wire contributed to this report.