Good Samaritans in West Loop kidnapping attempts speak out as person of interest questioned
CHICAGO - A person of interest is being questioned in connection with an attempted kidnapping Sunday in the West Loop neighborhood, police confirmed Tuesday.
Police did not confirm whether the person of interest was the suspect featured in surveillance images that were sent out Monday.
At about 8:45 a.m. Sunday, a woman was walking in the 200 block of South Sangamon Street when the offender approached her, grabbed both of her arms and tried to pull her inside a maroon Dodge Plymouth minivan. The victim began to scream.
"It was gut-wrenching, primordial even – immediately got our attention," said Thomas James, who was a passenger in a rideshare nearby and heard the victim's screams. He and his driver quickly decided to check it out.
"She sped over there, I jumped out of the vehicle and approached the van, screaming at the man," said James.
Then he says the suspect threatened him.
"He picked up a screwdriver and said I will kill you," said James.
The 45-year-old woman was not injured, and the offender fled in the minivan.
SUBSCRIBE TO THE FOX 32 YOUTUBE CHANNEL
The aftermath of the attack was caught on camera by a neighbor who heard the woman screaming.
The minivan used in the attempted kidnapping was located Sunday. Chicago police released pictures of the suspect Monday.
"She is an incredibly strong person the way she handeled it and composed herself," said James about the victim.
Violence Interrupters called on Chicago leaders Tuesday to hire 500 civilians to patrol the city's neighborhoods.
"Citizens are on their own in Chicago," said Tio Hardiman, executive director of Violence Interrupters. "If you don't step up and have somebody to protect you as a lady you're going to find yourself in some trouble out here …. This is not political at all. This is about really trying to help people in Chicago."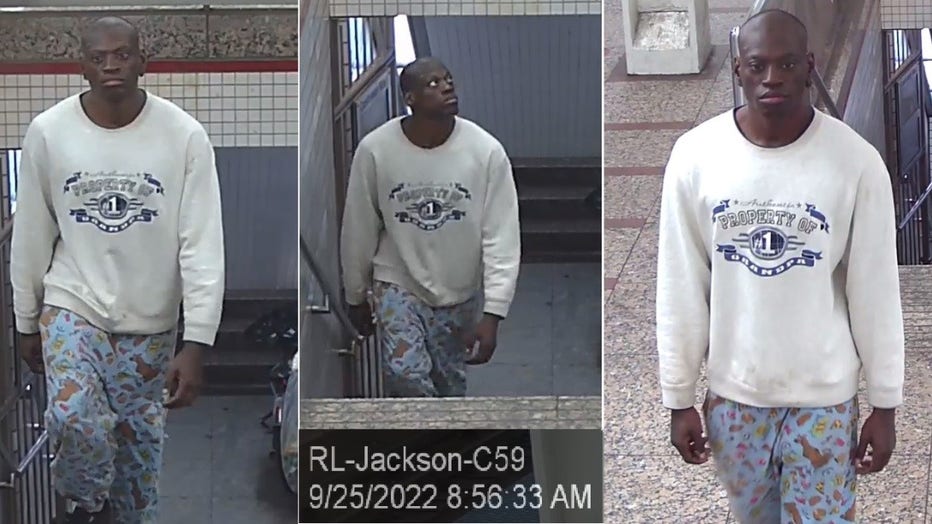 Surveillance photos of a suspect wanted in the attempted kidnapping of a woman Sunday morning in the West Loop neighborhood | Chicago police
A previous attempted abduction happened on Aug. 24 at about 7:20 a.m., also on South Sangamon near West Adams Street.
In that instance, the suspect stopped the victim and attempted to guide her into his vehicle.
"She flinched he grabbed her and I started screaming bloody murder running across the street pulled out my pepper spray," says the man who witnessed and intervened in that attack.
The 30-year-old victim in that attack was not injured and the suspect fled the scene with three others in the getaway car.
Police said Monday the two attempted kidnappings do not appear to be connected. Neighbors are on edge.
"It's scary to walk around here and worry about somebody jumping out and grabbing me," said one woman near the scene of the Sunday morning attack.
No one is in custody for the August attack.