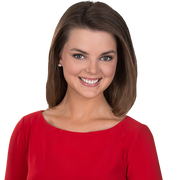 Elizabeth Matthews
Reporter
Elizabeth Matthews is a reporter at FOX 32 and joined the team in July of 2015.
Matthews is happy to be back in Chicago after working her way through the Midwest.
"Chicago is home for us and it always will be," she said. "We are so thankful to be back in the Windy City and to finally settle down after a whirlwind of career moves."
Matthews is a Columbia College graduate who grew up in a small town downstate. She comes to FOX 32 from St. Louis where she was a Multimedia Journalist at KSDK-TV. Before that, her career took her to KTUL-TV in Tulsa, Oklahoma and KOAM-TV in Joplin, Missouri. She is an awarding winning journalist and was on the ground reporting in chaos when the riots in Ferguson, Missouri first broke out. She spent countless nights on the streets in Ferguson reporting on the civil unrest and protests.
Covering the Joplin tornado was an experience she will never forget as Joplin was where she started her career.
Matthews enjoys ballet, running and hiking. She loves spending time with her friends and family. She and her husband have a son, and one fur baby -- a kitty named Stinker.
She also loves telling your story! Email her with your story idea.
The latest from Elizabeth Matthews