Chicago area's drought deepens and expands
Chicago - It has been a wonderful week of weather. Plenty of sunshine, low relative humidity too, but it comes with a cost. The drought has become more dire in Illinois. The foundation for this drought might be traced all the way back to last fall. We had less than-average rainfall for that period and we followed that up with less-than-average snowfall last winter. That snowfall can help replenish soil moisture when it melts. 
Spring saw conditions get worse. May was the fourth-driest on record for Chicago with just .71" of rain. June started off promising with .88" of rain on the 1st of the month. We have seen just two other days this June with more than a trace of rain for a grand total so far of 1.47", or half of the average for the month to this point. The period between the 1st of April and the 10th of June was the second-driest on record for the state.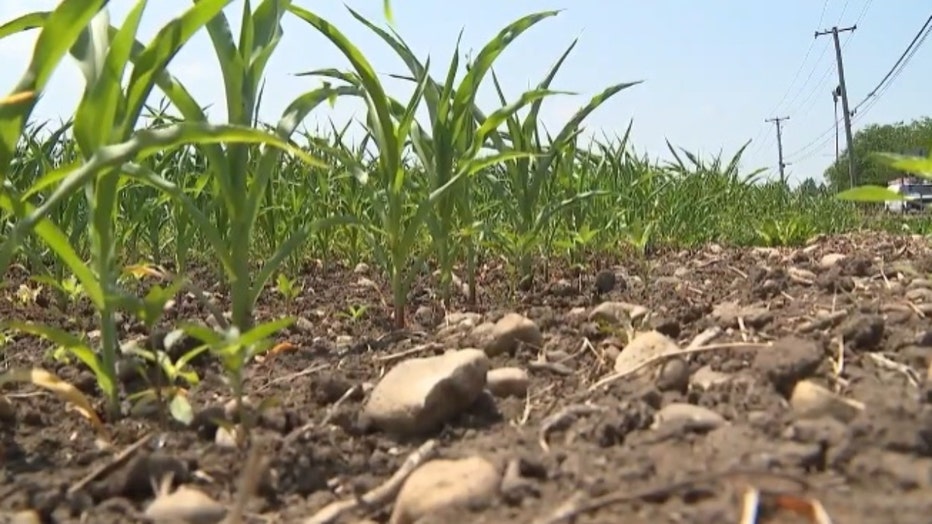 Parched land in Plainfield. 
The corn in the image above should be shoulder-high by the 4th of July. Click HERE to see Fox 32's Elizabeth Matthew's report on our drought and its impact on farmers.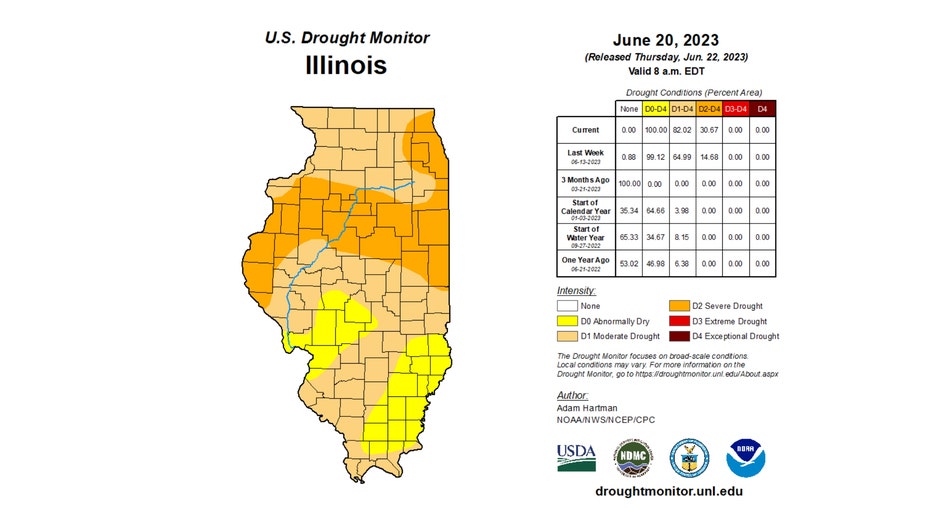 The U.S. Drought Monitor's latest assessment shows our drought has deepened and expanded. Nearly 82% of Illinois is now in a moderate drought. That is up from 65% last week. The portion of the state in a severe drought has more than doubled to just under 31%. Drought levels range from moderate to severe then extreme, followed by exceptional.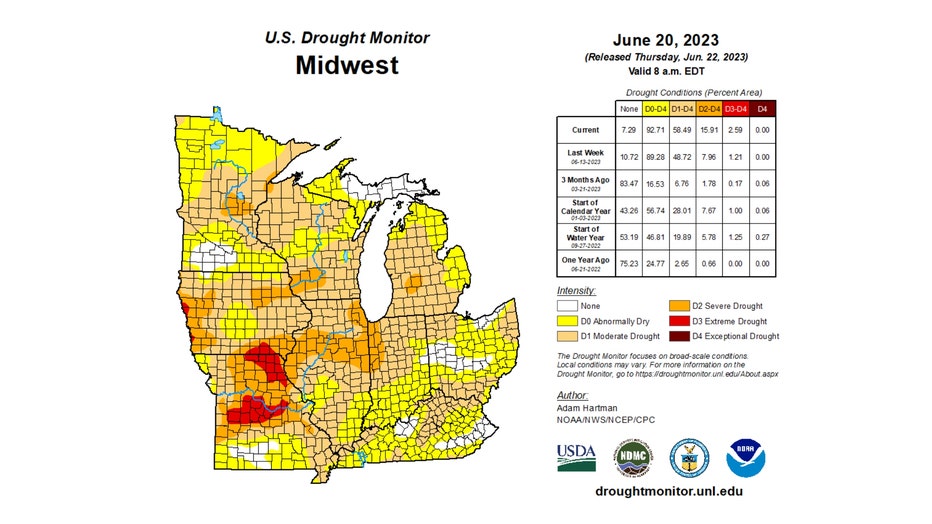 Surrounding states are also dealing with drought conditions. The Midwest region has also seen a significant deepening of the drought. Nearly 60% of the region is now in a moderate drought. That is an increase of nearly 10% compared to last week. The portion of the Midwest in a severe drought has nearly doubled to 16% compared to last Thursday. Nearly 3% of the Midwest is now in an extreme drought.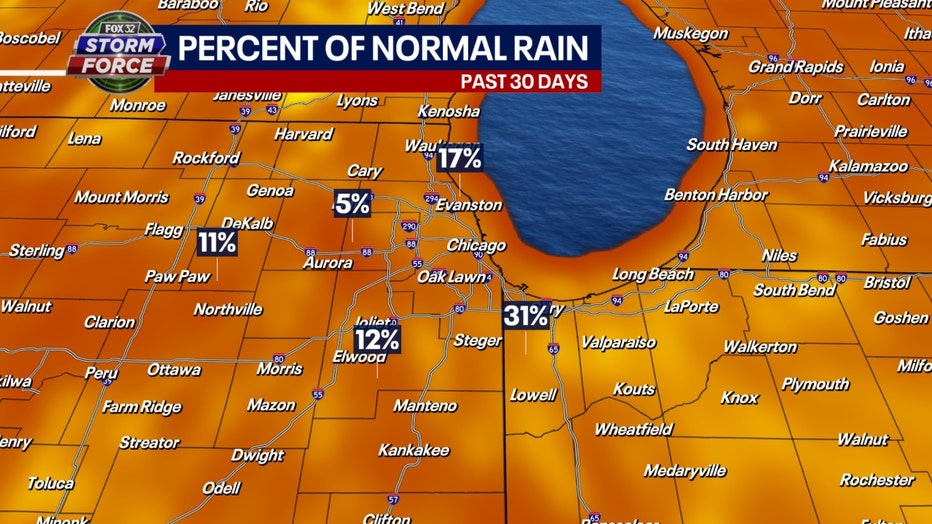 It's clear to see why we find ourselves in this situation after reviewing the percentage of normal rainfall we have seen over the past 30 days. Most of northern Illinois and Indiana has seen between just 5% to around 30 of average rainfall for the period.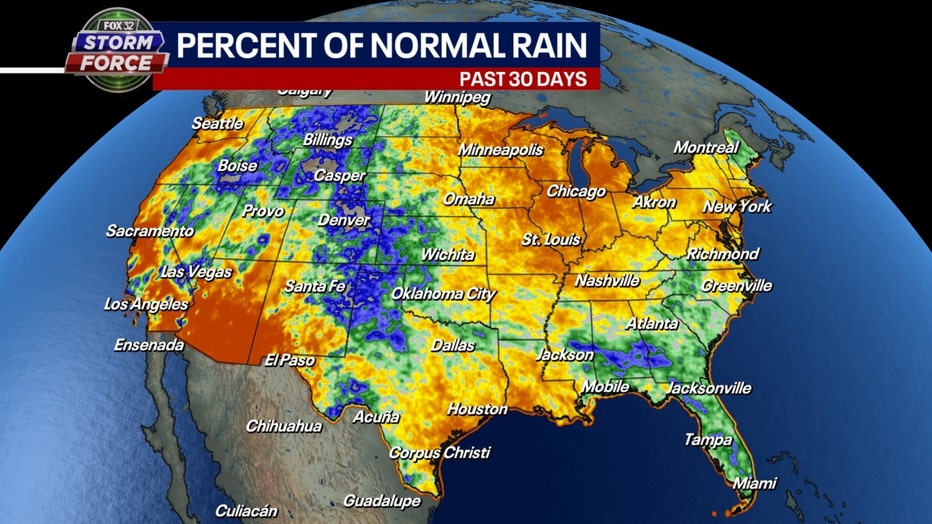 Our region really stands out when looking at a national perspective. Other regions dealing with drought conditions as bad or worse than what we are seeing here include the Gulf Coast region that encompasses eastern Texas and nearly all of Louisiana. The desert southwest and much of the west coast are also desperately dry.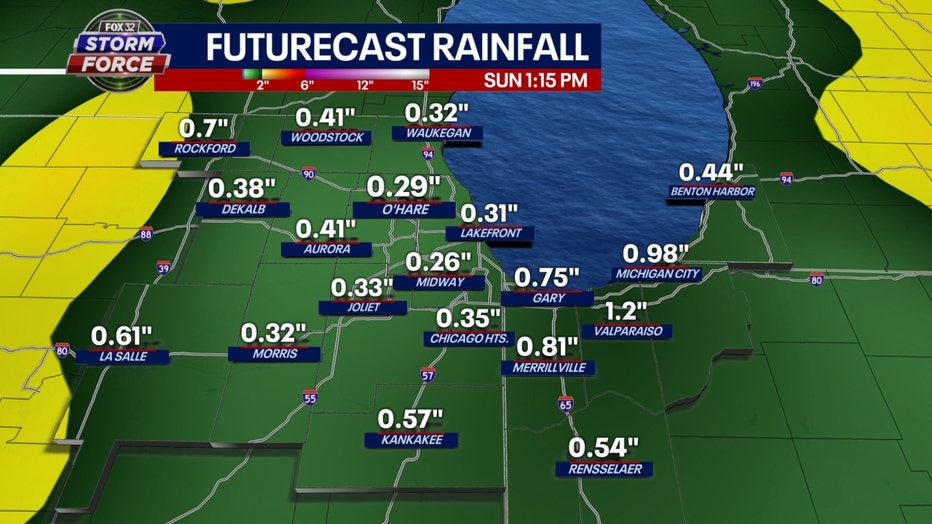 I ran the GFS model out through a week from Sunday to see how much rainfall could be coming. This latest model run doesn't offer the kind of meaningful moisture we need to significantly alleviate the drought. It spits out about a quarter of an inch of rain to about a half inch of rain for most of the area. We'll take any rain we can get, but we need about three or four inches of rain to make a real difference for this drought.