Chicago Autumn Forecast: New models detail season's weather trends
CHICAGO - So you have survived the summer of 2023. Not too difficult an accomplishment since it wasn't particularly warm.
The average temperature for the months of May, June, and July was 73.6 degrees making this summer tie two other years as the 35th warmest (out of 150) on record for Chicago. The season ended up just about a third of a degree above average.
What will fall bring us? Odds are climate change will give it a boost in the warmer-than-average direction.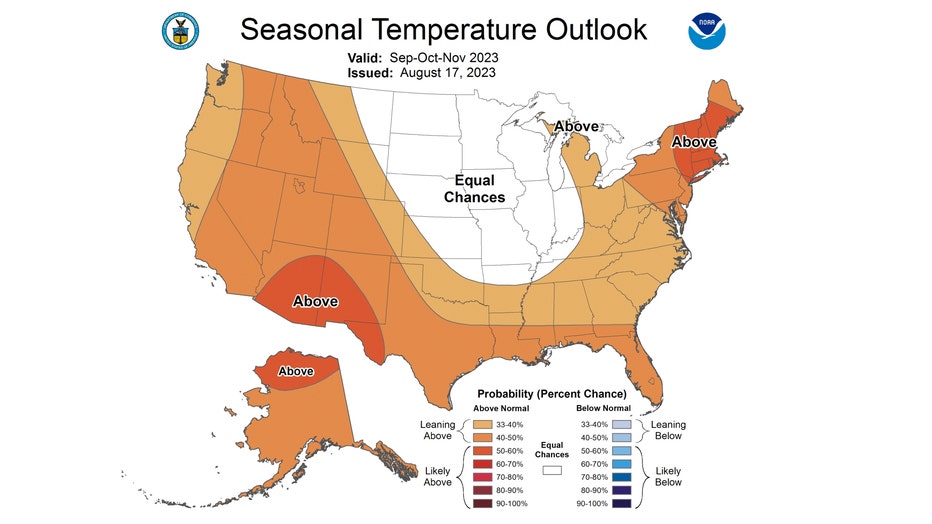 The official forecast from the National Weather Service says we will have equal chances of being above or below average during the months of September, October, and November. In other words, there isn't a very strong signal from the models that tip the scale either above or below average. Six of the 25 warmest falls on record for Chicago have happened since the year 2005. The fourth-warmest fall on record occurred seven years ago and the eighth-warmest was just two years ago.
Climate Central has updated its study on just how fall temperatures are trending over the past nearly half-century. Chicago, like so many cities in their study, has been trending warmer.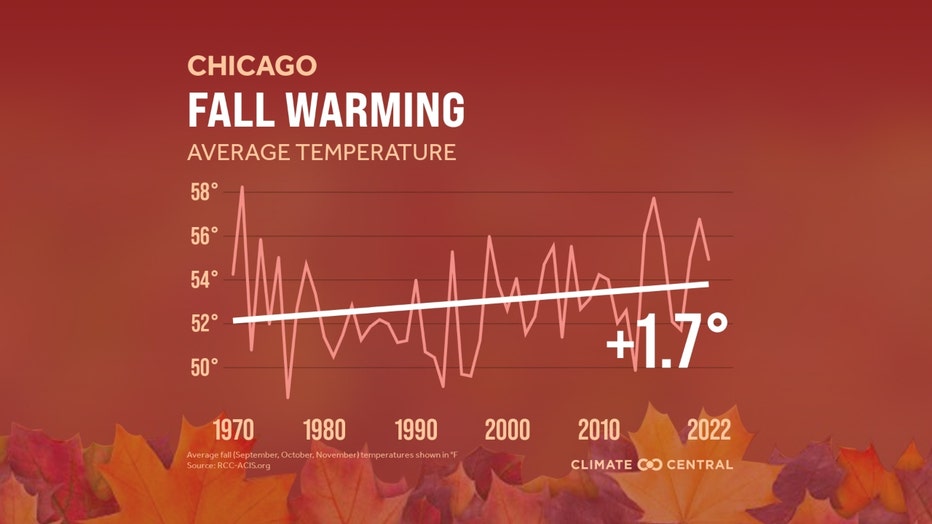 The average fall temperature for our city has climbed just under 2 degrees since 1970. Climate Central analyzed 241 locations and found 96% of them have seen their average fall temperature increase. On average, those 232 locations saw an increase of 2.4 degrees. About a third of the locations saw an increase of 3 degrees or more since 1970.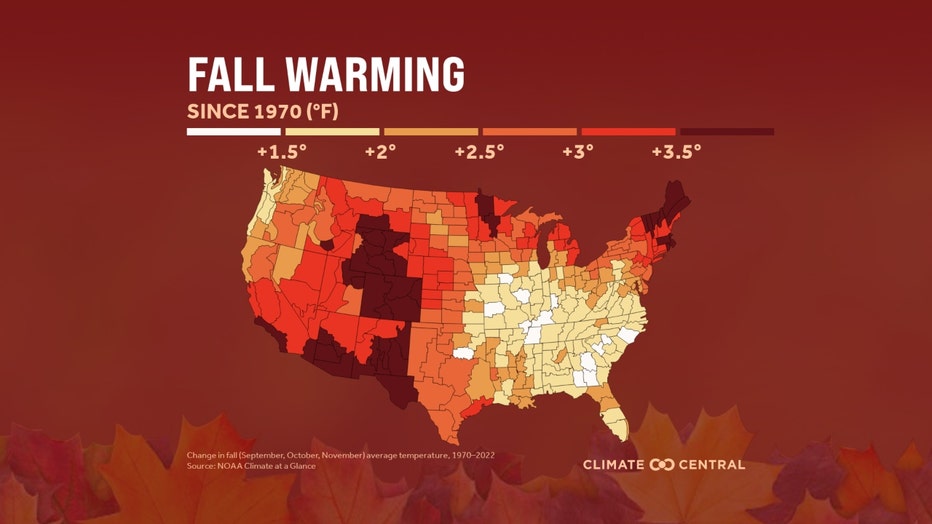 The biggest jumps in the average fall temperature were: Reno, Nev. (7.7° degrees); Las Vegas, Nev. (6.1 degrees); El Paso, Texas (5.7 degrees); Tucson, Ariz. (5.3 degrees); and Phoenix, Ariz (5.1 degrees). The most intense warming has occurred mainly in the Southwest but portions of the Rockies and New England have seen sharp increases too.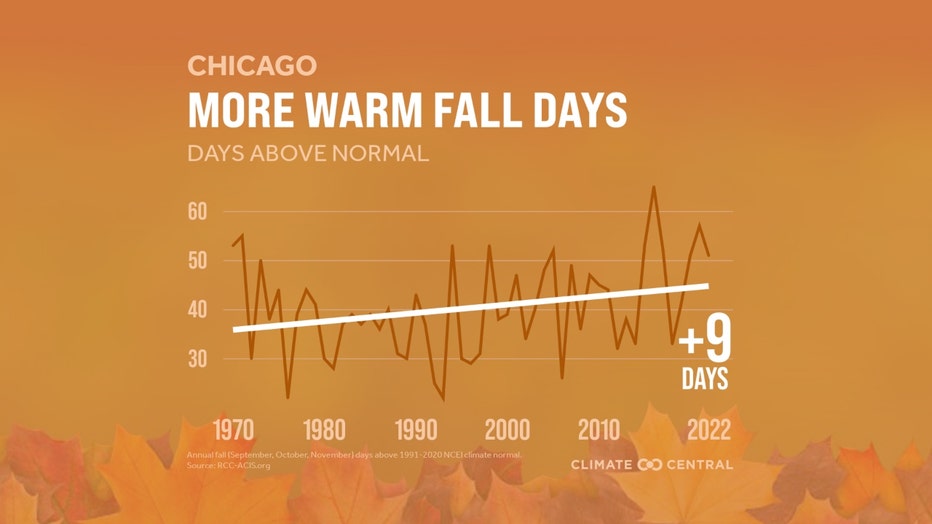 Warming falls mean more days that are unusually hot for the season. Climate Central's study shows we have seen an increase of nine more days of unusually warm fall weather since 1970 here. Of the locations they looked at, 95% saw an increase in unusually hot fall days and 86 locations are now experiencing at least two more weeks of above-normal autumn days.
Here are some of the conclusions from the study: 
Fall warming is widespread across the contiguous U.S., and most intense in the Southwest.
Warmer fall temperatures prolong risks of heat-related illness, wildfire, allergies, and more.
As the planet warms, all four seasons are warming too. This year's historic summer heat in the U.S. and across the globe is likely to linger into fall.
Resulting shifts in risky heat, fire weather, allergies and more can affect ecosystems, human health, and the economy.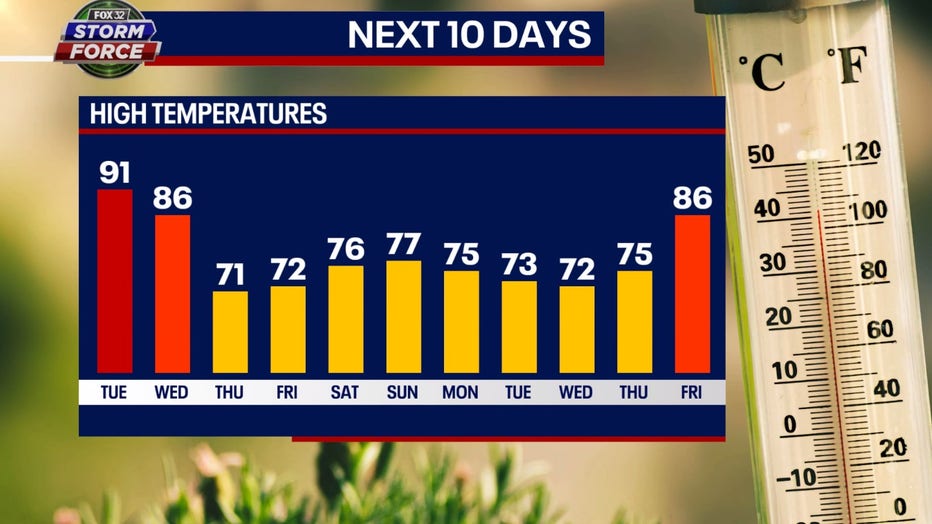 Most models are suggesting a turn towards a cooler overall pattern for the next couple of weeks. Our Fox Model is suggesting a cooler start to September once we get through Wednesday. 8 of the next 11 days are forecast to be at least a bit below average. The longer-range temperature outlooks from the Climate Prediction Center have us near or below average overall from this Sunday to just past the middle of the month.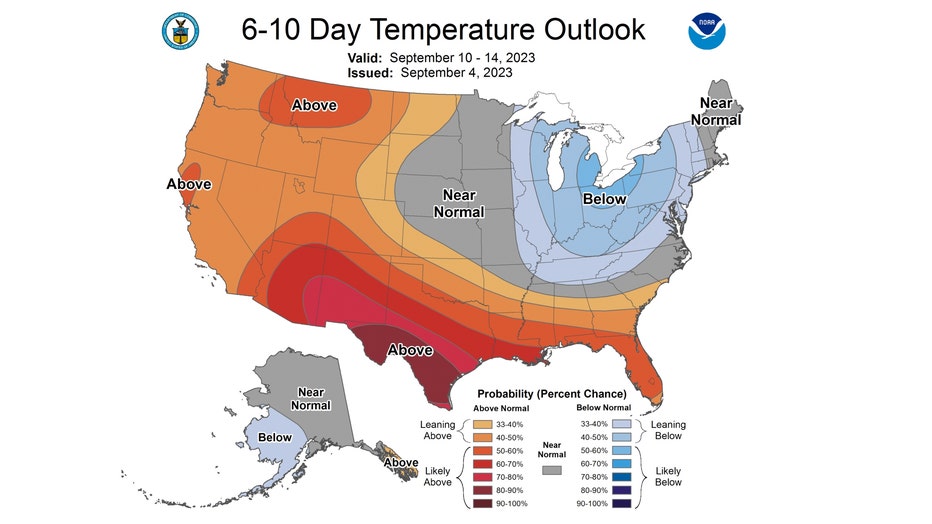 The 6-10 day temperature outlook has us "leaning below" normal overall from Sunday through the following Thursday. Average highs for this period are in the middle to upper 70s.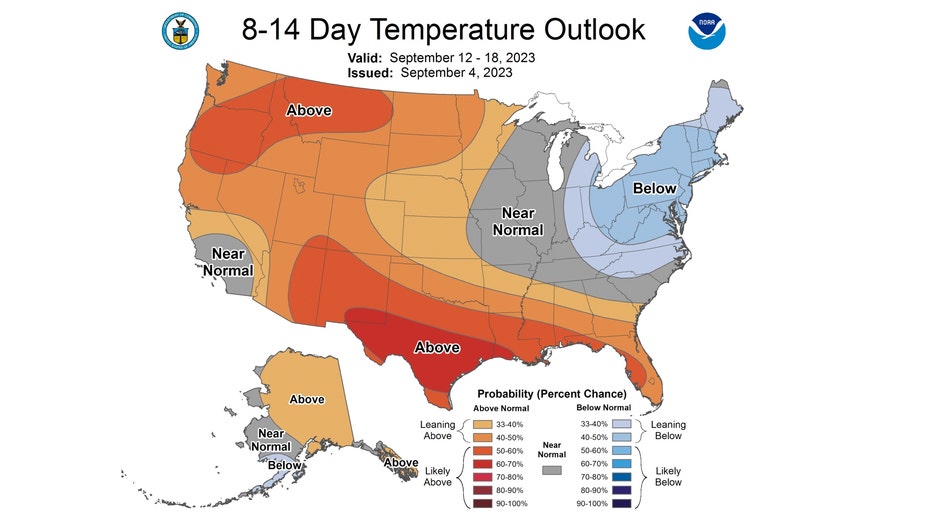 The 8-14 day temperature outlook has us "near normal" from next Tuesday through the following Monday. This "cooler period" the next couple of weeks may just be a temporary reprieve from warmer-than-average fall weather.
I would like to leave you with some words of encouragement for those who like more cool and crisp autumn weather. The average high for the start of fall is 80 degrees but falls to just 42 degrees by Nov. 20th, the end of meteorological autumn.