Chicago weather: Sizing up snowfall for Friday
Chicago - The frustrations of forecasting snowfall in Chicago can make a meteorologist pull his hair out. That is why I don't have much left. 
Friday's snowstorm is a perfect example. Models have been going back and forth between a hugely impactful storm with several inches of heavy wet snow to a near miss where most of the snow stays well south of the city.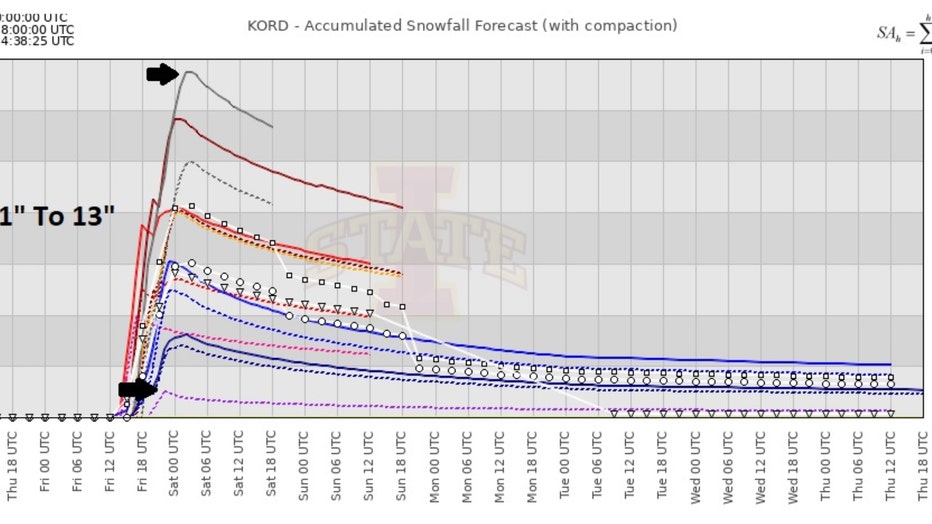 Accumulated snowfall meteogram for O'Hare
A meteogram for O'Hare is a helpful visual that shows several model solutions for snowfall for comparison. It gives us an idea of how much consensus there is or isn't between computer models on snowfall amounts. Notice the wide range of forecast solutions. One model is forecasting as little as an inch of snow while another has more than a foot.
Factors that influence snowfall forecasts include the track of the storm, the ground temperature, mixed precipitation, possible lake-effect enhancement, snow to liquid ratio, amount other things. This will be a heavy, wet snow with a possible 8 to 1 ratio. In other words, 1 inch of water would mean 8 inches of snow. This is sometimes referred to as "heart attack" snow and could bring down power lines as it rapidly accumulates.
WINTER STORM TO UNLOAD ON CHICAGO FRIDAY
I will share some of the latest (as of this writing) model forecasts for total snowfall with this system. Most models have the snow beginning Friday morning around 8 or 9 am and getting heavier during the afternoon and evening hours.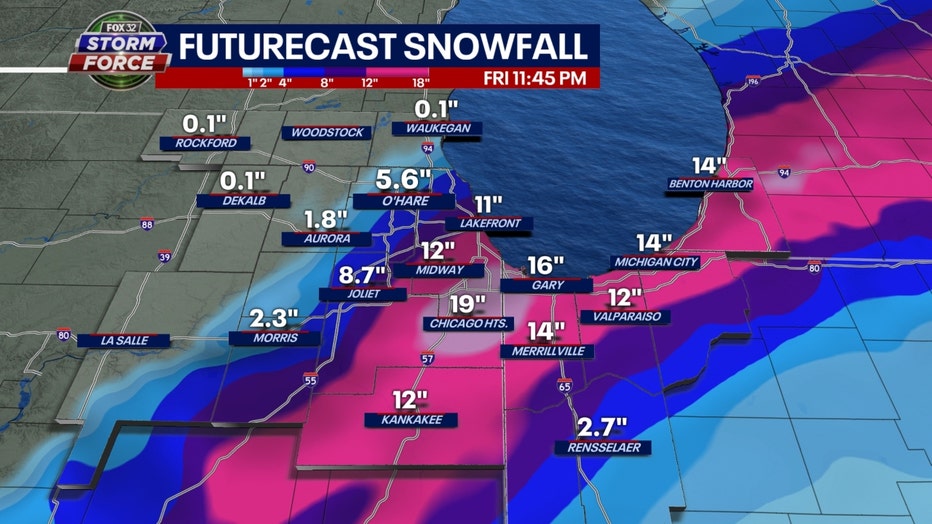 Baron model total snowfall accumulation forecast through Friday
Our Baron model lays out nearly a foot of snow or more from the city south and eastward into northern Indiana. Most of McHenry County and Kane County see no snowfall at all.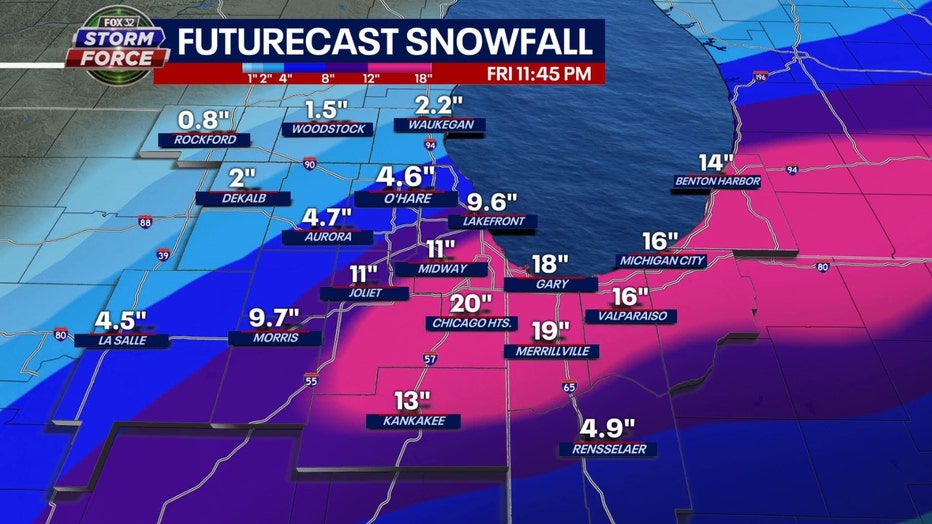 GFS Model total snowfall accumulation forecast through Friday
The GFS Model is going gangbusters with 18" or more snow south and east of the city.  It squeezes out around 10" in Chicago and then tapers amounts to nearly 5" at O'Hare to just 1 to 2 inches in our far northwestern suburbs.
These numbers will change and they could even change dramatically. It is rather unusual this close to a storm to have so much difference in forecasts among the models. The main message is an impactful snowfall will begin Friday morning and get worse during the afternoon. The biggest impacts may be near and south of the city. I believe the numbers are too high and will come down. The top end of this storm should be around 8 to 10 inches.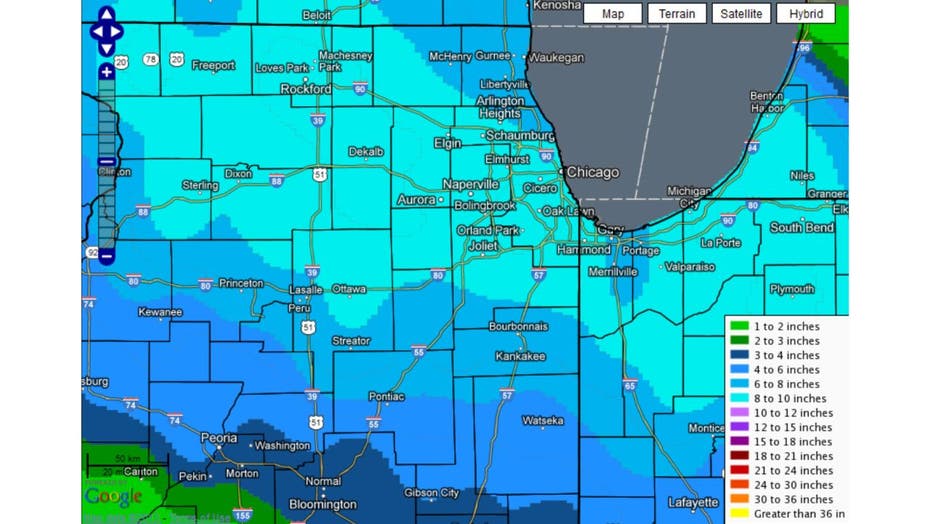 Snowfall amounts from March 5, 2013 storm
March snowstorms are nothing new for Chicago. We have had some whoppers. Ten years ago the 4th biggest March single day snowfall hit on March 5th, 2013. 9.2" fell at O'Hare. The National Weather Service has summaries of other significant March storms. Friday's storm may need to be included in their list. Let's wait and see.