Aréanah Preston shooting: Mom of slain Chicago cop speaks out after 4 teens charged
CHICAGO - Four teens were charged and ordered held without bail Wednesday in the fatal shooting of off-duty Chicago Police Officer Aréanah Preston.
Murder charges were filed against Joseph Brooks, 19, Travell Breeland, 19, Jakwon Buchanan, 18, and a 16-year-old, according to CPD Interim Supt. Eric Carter.
The suspects also face charges of armed robbery, arson, burglary and possession of a stolen vehicle and unlawful use of a weapon.
"These individuals were out looking for victims in the overnight hours of Friday into Saturday morning and are connected to multiple robberies and a motor vehicle theft earlier that morning, leading up to the murder of Officer Preston," Carter said.
Police said Preston was killed in an armed robbery turned deadly. She had just finished her shift and was still in uniform when robbers passed her in a car, circled back and approached her while armed near her home by Blackstone Avenue and 81st Street in Avalon Park.
Police said at least three of the suspects exited the vehicle and two of them started shooting. A switch was attached to one of the murder weapons, making it automatic, according to authorities.
SUBSCRIBE TO FOX 32 ON YOUTUBE
Preston returned fire. She was hit at least twice and also grazed by a bullet. ShotSpotter, the city's gunshot detection system, picked up the barrage of gunfire. A total of 11 9mm shell casings were recovered from the scene.
Brooks' cellphone data pinged his location to a nearby cell tower where the homicide occurred, according to prosecutors
Preston was wearing an Apple Watch which sent an alert of a "traffic crash" to police dispatch which sent a 4th District officer to the scene. The officer rendered aid before driving Preston to the hospital where she was pronounced dead.
Preston's weapon was stolen from the scene and sold, and the suspects fled in a vehicle that was stolen roughly an hour before the shooting from the 4700 block of South Indiana Avenue, police said.
Her service weapon has not been recovered, according to police.
Police said the stolen vehicle was found later in the 7200 block of South Rhodes Avenue and had been set on fire roughly 20 minutes after the shooting, which accounts for the arson charge.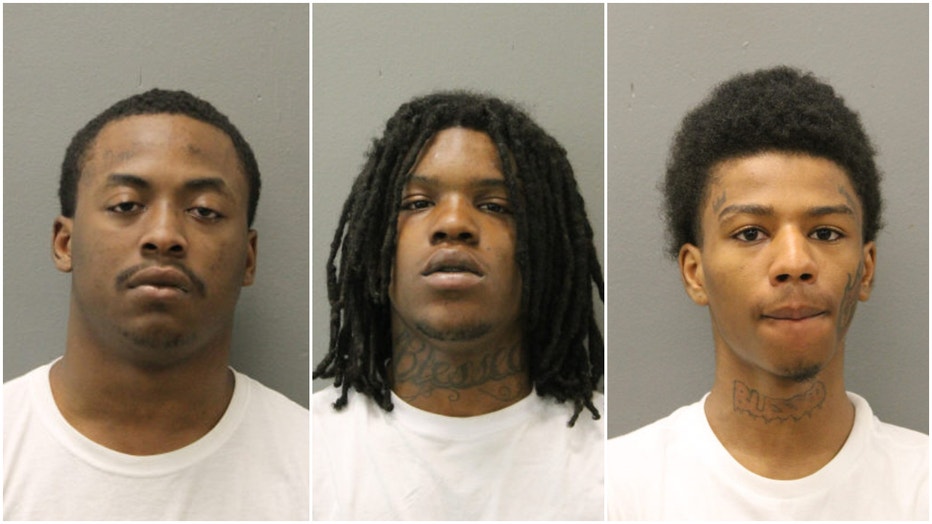 Left to right: Joseph Brooks, Trevell Breeland and Jakwon Buchanan | Chicago police
Later that evening, the 16-year-old allegedly called a friend and discussed the murder.
"[He] asked if he had seen the news about a police officer being killed … [the 16-year-old] said it was his work," prosecutors said.
Preston's mother Dionne Mhoon said, "Anytime you can shoot somebody and say 'that was my work' — what kind of human would say that about another human being?"
The 16-year-old "told him they were out robbing people when they saw a single female in her car. They were going to rob her but the female shot at them. One of the guys he was with shot back at the cop and killed her."
That friend later went to police with what the 16-year-old allegedly said and, during an interview with detectives, called him and put him on speakerphone and allowed detectives to listen as they talked.
During the call the 16-year-old made "additional admissions about the robberies and shooting including details that had not been released."
The 16-year-old said he stayed inside the Kia while the other three suspects robbed and shot Preston, prosecutors said. They later burned the Kia using lighter fluid, he allegedly told police.
Each suspect has been charged with first-degree murder and murder or other forcible felony.
The rest of the charges are as follows:
Breeland
Five counts of armed robbery with a firearm
One count of possession of a stolen vehicle
One count of burglary
One count of arson
One count of unlawful use of a weapon.
One count of violating order of protection
Brooks
One count of murder with a strong probability of death
Five counts of armed robbery with a firearm
One count of possession of a stolen vehicle
One count of burglary
Buchanan
One count of armed robbery with a firearm
One count of possession of a stolen vehicle
One count of burglary
One count of arson
One count of unlawful use of a weapon.
One count of violating order of protection
The 16-year-old
Two counts of armed robbery
One count of possession of a stolen vehicle
One count of burglary
One count of arson
Preston was with the Chicago Police Department for three years after graduating from Illinois State University. She was due to graduate from Loyola University this weekend with a Masters of Jurisprudence from the School of Law.
Preston was assigned to CPD's 5th district at 727 E. 111th St. 
"She connected with everyone. She was empathetic to everyone's problems regardless of what role they were in. Everyone who came into contact with her will be affected by this news and she will truly be missed." Tyrone M. Pendarvis, 5th District Commander said.
SUBSCRIBE TO FOX 32 ON YOUTUBE
A prayer vigil was held Tuesday night outside Area 2 Headquarters, and more than 500 people attended, including police officers from around the city. Many of her colleagues described her as intelligent and well-liked.
It was the first time Preston's mother spoke publicly about this tragic loss.
"To think that I have to bury my baby and I poured so much into her … But God is good though," said Mhoon.
Area 2's courtyard was filled with fellow officers, elected officials and family members. Preston's mother said her daughter loved her job dearly, especially her co-workers.
District 5 Commander Tyrone Pendarvis said Preston could de-escalate situations like no other.
"She did make one arrest that day and later on when we told the arrestee what happened … the person we arrested broke down crying," Pendarvis said.
Mhoon said her daughter "was a goal setter. She wrote everything down that she wanted to do and she did everything she wanted to."
She also spoke about the suspects in the case.
"I felt sorry for them (the suspects) because obviously nobody told them they were loved, nobody told them you can do anything as I constantly preached to my daughter," Mhoon said.
Preston's funeral services are tentatively scheduled for next week.
"One thing I can say is we gave our all, she's in a better place, we're gonna get through this," Mhoon said.
Local reporters asked police why there was such a long response time in getting to Officer Preston. Sources say there was a backlog, and Chief Brian McDermott refused to comment on the issue for the time being.
Preston's mother says she hopes the suspects are sentenced to life in prison.
Shooting came at end of robbery spree
Prosecutors said Preston was killed at the end of a robbery spree that began when Buchanan was contacted by his girlfriend who told him "she needed money for a barbecue."
Buchanan's girlfriend and another woman picked up Buchanan, Brooks, Breeland and the 16-year-old shortly after midnight in her Dodge Avenger, prosecutors said. All four were allegedly wearing black clothing and had face coverings.
Both women later identified all the suspects in a photo array except the 16-year-old, who was only identified by one of the women, prosecutors said.
The group allegedly first robbed a 33-year-old woman shortly after midnight after she parked her near the 900 block of East 46th Street. The woman said she was approached by four people who were each armed with a handgun with an extended magazine and they demanded her Louis Vuitton belt, before taking her cellphone and other items, including credit cards, prosecutors said.
The group then decided to steal a car and located a red Kia sedan in the 4700 block of South Indiana Avenue, which they stole, leaving the two women in the Dodge, prosecutors said.
The Kia was used by the four suspects in a robbery shortly afterward. They pulled up to a 62-year-old woman standing in front of her home and talking to a 29-year-old woman in the 10000 block of South Wallace Avenue, prosecutors said. The group pushed the two women to the ground and stole multiple items at gunpoint, including a Coach bag and a cellphone, prosecutors said.
The teens then drove to the 9100 block of South Merrill, where a man had just parked his Tesla. He was surrounded by the teens, who took his cellphone and Tesla key, prosecutors said. They discarded both shortly after taking them, prosecutors said.
The suspects soon began following Preston's car, prosecutors said.
Cellphone records for at least one of the suspects place his phone in the areas of the robberies that night, prosecutors said. Others in the group were identified by witnesses in separate photo arrays, prosecutors said.
All four of the teens have previously been convicted of robbery as juveniles.
The Sun-Times Media Wire contributed to this report.