Portillo's opening 3 new locations in Chicago area
CHICAGO - Portillo's is expanding across the Chicago area, with the beloved restaurant opening three new locations by the end of the year.
Portillo's is well-known nationwide for its Chicago-style street food. Two of the new locations opening in our area will be full-blown restaurants, while one will be a pick-up location only.
One of the new restaurants will be built in Cicero, just miles from Midway Airport. It will be located at 3300 S. Cicero Ave.
The restaurant will feature a "retro automotive garage" theme and be able to seat more than 200 customers between its dining room and seasonal outdoor patio. It will also have dual drive-thru lanes.
A second new restaurant will be built in Algonquin. It will be located in the high-traffic area of Randall Road and Corporate Parkway.
This second restaurant will also have a garage theme, the company said, and will seat more than 200 diners – which includes a seasonal outdoor patio. The restaurant will also have a dual lane drive-thru and pick-up area for customers.
The third location, which will be pick-up only, will be built in Rosemont. There will be no indoor dining area and feature three drive-thru lanes, as well as a pick-up area inside the building for orders placed online or through the app.
The Rosemont location will also offer delivery and catering. The smaller-footprint restaurant will be located at 10290 W. Higgins Rd.
SUBSCRIBE TO FOX 32 CHICAGO ON YOUTUBE
"We could not be more excited to welcome Portillo's into Rosemont this year," said Rosemont Mayor Brad Stephens. "Just as my father as the founder of the village always wanted a McDonald's, I am thrilled to welcome my youngest son Joseph's favorite restaurant, Portillo's, a Chicago legend, to Rosemont. I'm ready to wait in the drive-thru line!"
Porillo's has one other pick-up only restaurant, which is located in Joliet.
The new locations will all feature iconic menu items, such as hot dogs, Italian Beefs, burgers, and the restaurant's famous Chocolate Cake Shake.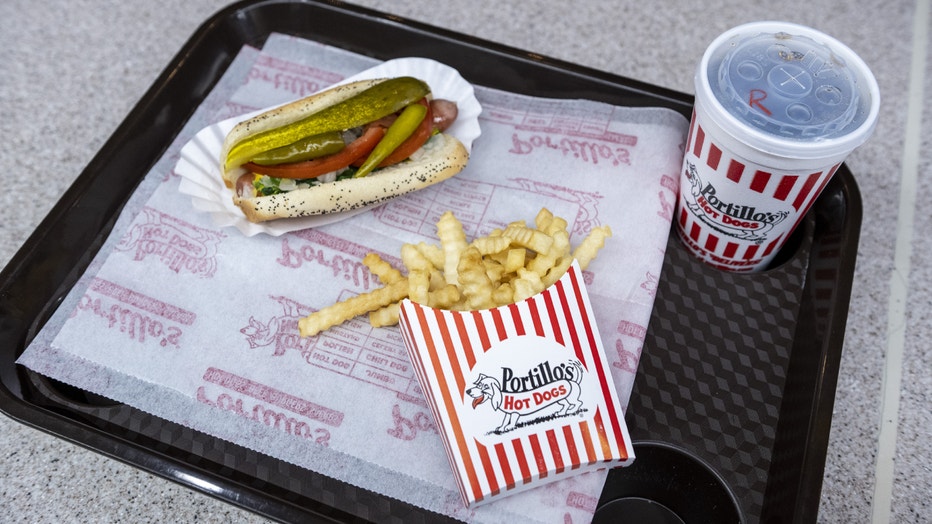 A hot dog, fries and soda arranged at a Portillos restaurant in Chicago, Illinois, US, on Tuesday, Sept. 27, 2022. (Christopher Dilts/Bloomberg via Getty Images)
"Our longtime, loyal Chicago fans have been a critical part of our 60-year history," said Portillo's CEO Michael Osanloo. "We're excited to continue expanding our footprint in Illinois, so we can bring our delicious Chicago-style street food to even more guests throughout Chicagoland."
In addition, the three new locations are hiring right now. Visit HERE for more information.