Suspects stole merchandise from Oak Brook T.J. Maxx, led police on chase with 5 kids in vehicle: prosecutors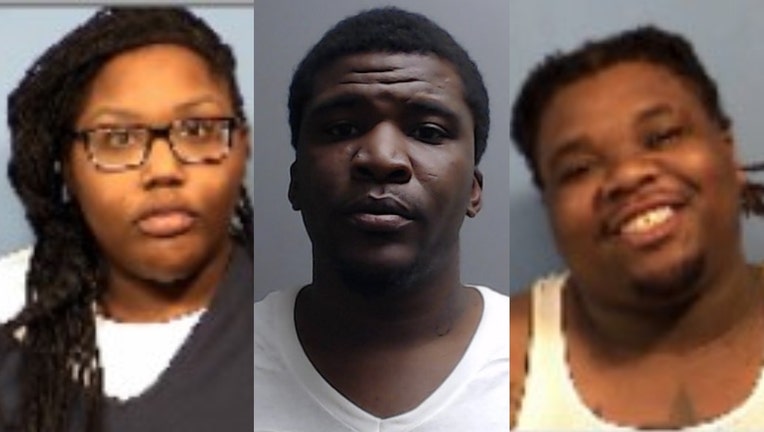 article
OAK BROOK, Ill. - Three people are accused of leading police on a high-speed chase after stealing merchandise from a T.J. Maxx in Oak Brook last week.
Russell Miller, 24, of Chicago, Zhane Ball, 28, of Iowa City, Iowa, and Xavier Miller, 28, of Chicago, have been charged with one count of burglary, one count of retail theft, two counts of aggravated fleeing and eluding a police officer and five counts of misdemeanor endangering the health oR life of a child.
At about 2:48 p.m. on April 14, Oak Brook police observed a GMC Acadia, allegedly driven by Russell Miller, parked in the aisle of a parking lot at the Shops at Oak Brook, prosecutors said.
A short time later, officers observed two individuals, later identified as Xavier Miller and Ball, exit the T.J. Maxx store, allegedly place items in the Acadia and then enter the vehicle.
The vehicle then fled the parking lot and headed eastbound on 22nd Street, prosecutors said.
Officers followed the Acadia, which then made a sudden U-turn and drove through a red light.
Officers activated their emergency lights and sirens to initiate a traffic stop. The Acadia initially stopped for officers, but as they approached the vehicle on foot, the Acadia fled, police said.
SUBSCRIBE TO FOX 32 ON YOUTUBE
The Acadia then allegedly led officers on a high-speed pursuit, reaching speeds in excess of 75 mph in a 45 mph zone.
During the pursuit, Russell Miller allegedly drove near York High School as students were being released for the day and sideswiped a school bus, lost control and crashed into another car.
All three suspects were then taken into custody.
There were five children in the Acadia, ranging in age from two months to 10 years old, prosecutors said.
While investigating, police determined that Xavier Miller and Ball allegedly entered the T.J. Maxx store, grabbed shoes, socks and handbags totaling about $1,701.87 and left the store without paying for the items.
"This most recent case of fleeing from the police is extremely disturbing as it involves five young children in the vehicle as the driver allegedly fled and ultimately crashed his vehicle," said DuPage County State's Attorney Robert Berlin. "To make matters worse, the driver allegedly led police on a chase near a school just as students were leaving for the day. Thankfully, no innocent motorists or students were injured or killed. I am extremely worried however, that it is just a matter of time before tragedy strikes. I cannot stress this enough, if you hear sirens and see flashing lights behind you, pull over."
The next court appearance for all three suspects is scheduled for May 8.