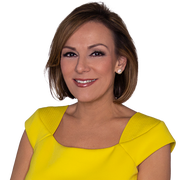 Roseanne Tellez has been an anchor and reporter in the Chicago television market for almost 25 years.
She spent the past 15 years as a reporter and morning news anchor for WBBM CBS 2 Chicago, and the previous 14 years in various roles at Tribune's WGN-TV, serving as anchor from 1995-2004.
Prior to that, Tellez was a general assignment reporter at WTLV-TV in Jacksonville, Florida. She began her career in broadcasting as an anchor and general assignment reporter at KQTV in St. Joseph, Missouri.
A graduate of the University of Southern California, Tellez holds a Bachelor of Arts degree in Broadcast Journalism.
The latest from Roseanne Tellez
The Chicago Park District on Tuesday said it plans to reopen the city's lakefront, playgrounds and indoor aquatics programming as metrics allow the city to ease COVID-19 regulations.
The driver was speeding and lost control in the northbound lanes of the Stevenson when he hit a concrete wall, went over the edge, hit a light pole and smashed to the ground 43 feet below.