Heather Mack could plead guilty to role in mom's murder later this month
CHICAGO - Nearly nine years after the brutal murder of her mother in Indonesia, Heather Mack is set to potentially plead guilty this month to federal charges related to the August 2014 killing of Sheila von Wiese-Mack.
U.S. District Judge Matthew Kennelly set a June 15 change-of-plea hearing during a brief phone call with lawyers in Mack's case Thursday. He did so after Assistant U.S. Attorney Ann Marie Ursini told him there had been "significant progress toward plea negotiations."
The prosecutor told the judge she expects Mack's case to "resolve by plea," but cautioned that "we are still working out some specific language."
Kennelly agreed to schedule the hearing, during which Mack could plead guilty, but he did not take her Aug. 1 trial date off the calendar.
Still, the news means partial closure could be near for an international legal saga that began almost a decade ago.
SUBSCRIBE TO FOX 32 CHICAGO ON YOUTUBE
News broke in August 2014 that the body of von Wiese-Mack, an Oak Park socialite, had been found in a suitcase left outside a posh Bali resort. A pregnant Mack was accused in the murder and faced a possible firing squad if convicted. Mack was 18 at the time. She is now 27.
Mack and her onetime boyfriend, Tommy Schaefer, were tried and convicted in Indonesia. Schaefer was sentenced to 18 years in prison for beating von Wiese-Mack to death, and Mack was sentenced to 10 years for helping.
But signs long pointed to a prosecution in the United States if the pair ever returned. U.S. prosecutors accused Schaefer's cousin, Robert Bibbs, of encouraging and advising the couple. He pleaded guilty to his role in the conspiracy and was sentenced to nine years in prison. He is set to leave custody in February 2025.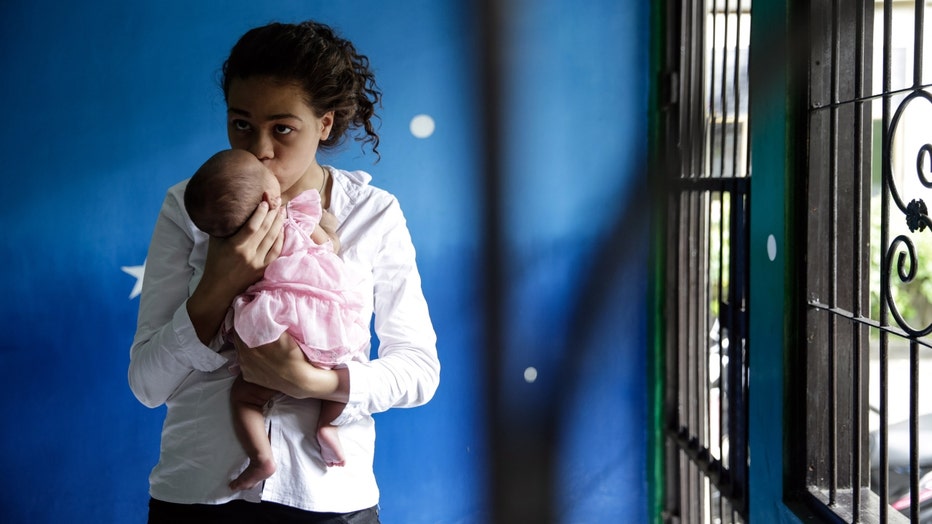 Heather Mack, 19, of the United States holds her baby daughter in a cell as she await her verdict hearing on April 21, 2015 in Denpasar, Bali, Indonesia. (Agung Parameswara/Getty Images / Getty Images)
A guilty plea from Mack would scuttle her trial and lead to a sentencing hearing before Kennelly. Schaefer still faces a likely prosecution in the United States upon his release from prison overseas.
Prosecutors here have said von Wiese-Mack was bludgeoned to death with the metal handle of a fruit stand so that Mack, Schaefer and Bibbs could enrich themselves with the proceeds of von Wiese-Mack's $1.5 million estate.
They've also recently alleged that Mack covered her mother's mouth with her hand during the killing and later told a Schaefer relative that von Wiese-Mack had to die because Schaefer would have been in even bigger trouble if she survived.
The feds documented several text messages in the Bibbs case that were traded between Mack and Schaefer. They ranged from giddy to tense and led all the way up to the Aug. 12, 2014, murder at the St. Regis Bali Resort.
Mack and Schaefer called each other Bonnie and Clyde and used the phrase "saying hi" as code for the killing, records show.
They later took a loaded luggage cart to the resort's entrance and placed a large suitcase and other items in the trunk of a taxi before reentering the resort and fleeing the property through another exit. U.S. prosecutors say they have video from the taxi stand of the resort which shows Mack and Schaefer handling a suitcase, covered in sheets, in a cab.
Mack gave birth to her daughter, Estelle Schaefer, during her Indonesian trial. Mack was released from prison there more than six years later, in October 2021, and authorities deported Mack and her daughter back to the United States.
By then Mack's daughter, known as Stella, had turned 6.
As their plane neared O'Hare Airport in early November 2021, an indictment was unsealed in U.S. District Court in Chicago that accused Mack and Schaefer of conspiring to kill von Wiese-Mack overseas. Mack was arrested at O'Hare and has been in federal custody ever since.
In the meantime, a bitter dispute developed over custody of Stella. Four people sought custody of the girl in a bench trial before Cook County Judge Stephanie Miller. The judge ultimately named Lisa Hellmann, Mack's maternal cousin from Colorado, as Stella's guardian.
Hellmann's mother is von Wiese-Mack's sister, and Mack objected when Hellmann was originally given custody of Stella, now 8, on a temporary basis.