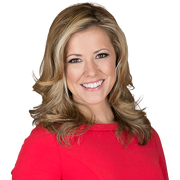 Kaitlin Cody
Meteorologist
Moving back to the Midwest was a coming home for Kaitlin Cody. She grew up in a Detroit suburb, and was excited to be able to forecast for the strong seasons of the north again. She graduated from Central Michigan University with a Bachelor of Science Degree in Meteorology, and a minor in Math.
As a first job out of college, Cody moved to Bristol, Tennessee to work for WCYB. This is where she met her husband Grady. She had a great time forecasting for the topography of the Appalachian Mountains. While in Bristol, she covered everything from flooding to ice storms.
Charlotte, North Carolina was Cody's next home at WCCB. She is a morning person, and had fun waking viewers up on the show "Rising" Monday through Friday. North Carolina had the Appalachian Mountains, too, but coastal weather was added. Cody covered Hurricane Matthew in Myrtle Beach and was able to do daily forecasts for the North and South Carolina coasts.
As there was some ice and snow storms in the south, Cody was excited to forecast for Chicago winters. She says working in Chicago has been a dream of hers since high school, and feels very blessed to have this opportunity.
Nature and animals have Cody's heart -- also her husband Grady, their daughter Birdie Jane, and their two dogs Luke and Charley.
The latest from Kaitlin Cody