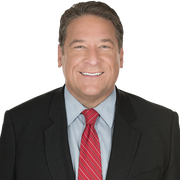 Mark Strehl
Meteorologist
Mark Strehl was a bit different as a kid. In third grade, after finding some fossils behind his grandmother's house, his mind was made up. He wanted to be an Archeologist! That was, until his fourth grade science teacher pointed out that it is geologists who study fossils!
But all that changed the very next winter when Chicago weather legend Harry Volkman came to Mark's church to be the keynote speaker. By fifth-grade, that was it. Mark thought Harry was the coolest guy and had the most excellent job. He was hooked.
Mark had the privilege of taking over for Harry when he left FOX 32 News.
"Taking over for Harry was a true honor...I felt like my life interest in weather had truly come full-circle, and I was helping carry on the tradition," Mark said.
Mark grew up in Ottawa, where his very first job came at age 16 working at the local radio station. He attended both Northern and Southern Illinois University and holds the AMS Seal of Approval.
He has worked on both coasts, from Eugene, Oregon to Albany, New York. He has also been a Meteorologist at WCCO-TV in Minneapolis and in Milwaukee at WISN-TV, but can think of no better place to be than back here, at home, in Chicago.
The latest from Mark Strehl