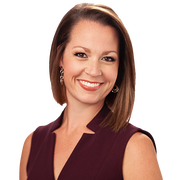 Emily Wahls
Chief Meteorologist
Emily Wahls is the Chief Meteorologist at FOX 32 Chicago. She joined the WFLD team in September 2021.
Wahls was born and raised on the east side of Michigan and found her love for weather at a young age. She attended Central Michigan University and graduated with her Bachelor of Science degree in Meteorology.
Her first full-time job out of college was in Lansing, Michigan at WLNS. She worked as the morning meteorologist for seven years, before taking on the Chief Meteorologist role at WILX, also in Lansing, Michigan. While in Lansing, Emily has covered everything from snowstorms and ice storms, to severe thunderstorms and tornadoes.
Outside of work, she spends her time with her husband Donnie and daughter Maeve. Together they enjoy cycling and being outdoors.
The latest from Emily Wahls
It was April 21, 1967, when a tornado outbreak claimed the lives of 58 people and injured over 1,000 in the Chicago area.
Cool and below average temperatures are expected all week for the Chicagoland area.