Historic Oak Park home up for sale • Chicago braces for winter weather • remains of missing woman found
CHICAGO - A Frank Lloyd Wright home is up for sale in Oak Park and it's listed for over half a million dollars, Chicago is finally expecting some winter weather after almost a month of above average temperatures, and the remains of a Downers Grove woman who went missing over five years ago have been found.
These are the top stories from FOX 32's Week in Review.
1. Inside look: Oak Park's historic Frank Lloyd Wright home listed on the market For the first time ever, an historic Frank Lloyd Wright home in Oak Park is up for sale. Built just a few years after Wright started his own practice, the George Smith House on Home Avenue in Oak Park was built for the Marshall Fields' salesman with whom Wright went to church.
2. Cheyann Klus: Remains of Downers Grove woman missing since 2017 found The remains of a Downers Grove woman have been found more than five years after she went missing. Cheyann Klus was last seen by her family on Nov. 27, 2017 at her home in unincorporated Downers Grove, according to the DuPage County Sheriff's Office.
3. Some real winter weather back in Chicago's forecast The start of 2023 is now running an incredible nearly 11 degrees above average. Snowfall has been scant too. We have picked up just 4.7" of snow since the start of November last year. On average, we should have nearly 15" by now. In other words, we have seen less than a third of normal snowfall this winter thus far.
4. Mega Millions ticket worth $1 million sold in Chicago suburbs: Here's where The million dollar ticket was purchased at 7-Eleven, located at 847 N. Dodge Ave in Evanston. And an Illinois iLottery player matched four numbers plus added the game's Megaplier feature to win $20,000, while five others matched four numbers and the Mega Ball to win $10,000 each, according to Illinois Lottery. 
5. Chicago mayoral election: New poll shows Vallas, Garcia as frontrunners A new voter opinion survey finds Paul Vallas and Rep. Chuy Garcia leading the nine-candidate field for mayor of Chicago. The top two finishers in next month's voting will compete in an April 4th runoff election.
6. 3 Chicago men face multiple charges after evading state police in stolen vehicle Three Chicago men were arrested and charged after fleeing state police in a stolen vehicle near South Loop on Tuesday. Illinois State Police says 23-year-old Tavoris I. Jackson, 29-year-old Anthony Harris, and 25-year-old Robert Ingram will all face multiple felonies.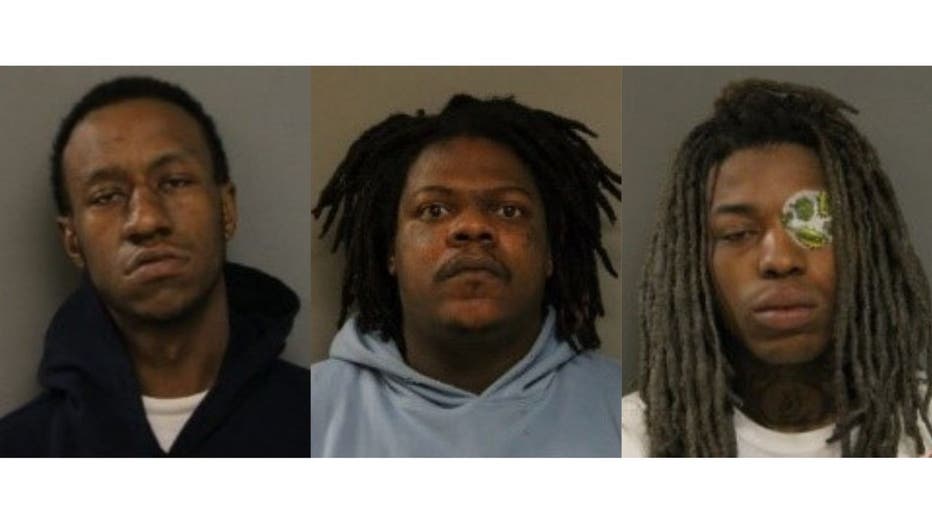 (left to right) Tavoris I. Jackson, Anthony Harris, and Robert Ingram (Illinois State Police)
7. Suburban businesswoman obtained $440K in small business loans, bought yacht and Gucci dog collars: indictment A South Holland woman is accused of fraudulently obtaining more than $440,000 in small business loans and grants under the federal Coronavirus Aid, Relief, and Economic Security Act and a State of Illinois pandemic-relief program. Kimberly Ray-Duncan, 54, is charged with six counts of wire fraud, three counts of money laundering and two counts of engaging in monetary transactions involving criminally derived property.
SUBSCRIBE TO FOX 32 ON YOUTUBE
8. Concealed carry holder shoots man trying to rob him on Chicago CTA train A concealed carry holder pulled out his gun and shot another man who tried to rob him at gunpoint on a CTA Green Line train on Friday, police said. Around 4:43 p.m., Chicago police say the 25-year-old male victim was on the train in the 4700 block of West Lake Street when he was approached by a 33-year-old male offender who pulled out a gun and announced a robbery.
9. $47M in Cook County property tax refunds to be issued automatically More than $47 million in property tax refunds will be sent over the next few months to more than 53,000 Cook County homeowners who overpaid last year. The refunds will be sent automatically to 53,007 homeowners who made overpayments on their First Installment taxes last year, according to a statement from the Cook County treasurer's office.
10. Calumet City woman impacted by Bank of America-Zelle glitch speaks out: 'three dollars to my name' Bank of America says an earlier glitch that caused customer's bank accounts to show a zero balance has been fixed. But that's not the story we're getting from irate customers. This specifically involves transactions made through the money transfer service, Zelle.