Best place to live in Chicago • armed carjacker gets 22 years in jail • new air taxis
CHICAGO - A northern suburb was ranked the best place to live in the Chicago area by Niche; a man from Harvey was sentenced to 22 years in jail following an armed carjacking and police chase in Will County; and traveling might be getting a little easier with the use of air taxis to get between downtown Chicago and O'Hare International Airport in record time. 
These are the top stories from FOX 32's Week in Review.
1. This suburb ranked best place to live in Chicago area: A suburb in Lake County has been named the best place to live in the Chicago area, according to Niche.
A new list released by Niche this week revealed that suburban Bannockburn was ranked the number one best place to live in the area.
2. Cook County man said he'd 'be out by Sunday' after armed carjacking — will now serve 22 years in Will County: A Harvey man has been sentenced to 22 years in prison after carjacking an Uber Driver in Chicago and then leading police on a high-speed chase into Will County last year.
Jordan Henry, 29, was found guilty in January of three counts of aggravated vehicular hijacking, two counts of armed robbery, two counts of attempted aggravated vehicular hijacking, aggravated unlawful possession of a stolen motor vehicle, two counts of theft, unlawful possession of a weapon by a felon, aggravated fleeing or attempting to elude a peace officer and striking a police animal. 
3. Air taxis that will take you to O'Hare Airport coming to Chicago: Imagine leaving the city and being at O'Hare in ten minutes. Right now, driving from the Near West Side to O'Hare would take you about an hour.
Archer Aviation and United are partnering to get you to the airport faster, avoiding all traffic and construction.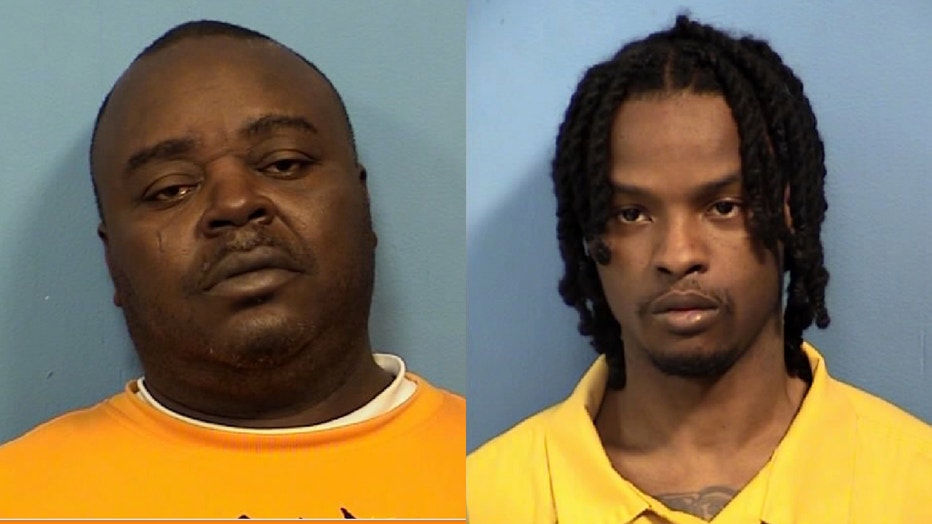 Antwan Davis and Kovadis Stewert | DuPage County State's Attorney's Office
4. 2 Chicago men charged with stealing from suburban Ulta Beauty store, leading police on high-speed chase: Bond was set Friday for two Chicago men accused of stealing from a suburban Ulta Beauty store and then leading police on a high-speed chase when officers attempted to take them into custody.
On Thursday, around 6 p.m., Oak Brook police responded to the Ulta Beauty store located at 2155 22nd Street for a report of retail theft.
5. Cook County woman wanted for murder of 19-month-old son arrested in Tennessee: A Cook County woman wanted for the murder of her 19-month-old son who hadn't been fed for three days before he died last fall has been arrested in Tennessee.
Jamie Hannion, 22, of Lyons Township, was arrested on a first-degree murder warrant earlier this month after the FBI Fugitive Task Force learned she was visiting family out of state.
6. Chicago mayoral election: New poll sheds light on close race between Vallas, Johnson: A new poll has shed light on the close race for Chicago's next mayor as the final two candidates prepare for the runoff election in two weeks.
In the latest poll conducted by Victory Research on March 20-22, Paul Vallas saw his lead over Brandon Johnson shrink from six points to two, 46.3% to 44.2%, from the previous poll conducted March 6-9. 
SUBSCRIBE TO FOX 32 CHICAGO ON YOUTUBE FOR MORE CONTENT
7. Over 3K pounds of meat recalled over possible E. coli contamination: More than 3,000 pounds of boneless beef chuck product that was distributed to several states is being recalled because it may be contaminated with a strain of E. coli. 
Elkhorn Valley Packing issued the recall for Elkhorn Valley Pride Angus Beef 61226 BEEF CHUCK 2PC BNLS, which was packed on Feb. 16, 2023, after a sample tested positive for Shiga toxin-producing E. coli or STEC O103, according to the Department of Agriculture's Food Safety and Inspection Service (FSIS).  
8. Goonie Gang terrorized Englewood, bragged on Facebook, made Goonie Gang T-shirts, feds say: The Goonie Gang sounds like an after-school club for little kids, but it really was a vicious criminal organization involved in three shootouts a day on the South Side during the summer of 2016, federal prosecutors say.
The small group, also known as the Goonie Boss gang, spread "terror and mayhem" through Englewood from 2014 to 2018, when four reputed members were indicted in a racketeering case, according to prosecutors.
9. Man indicted by grand jury for shooting death of Officer Andrés Mauricio Vásquez Lasso: The man accused of shooting and killing Chicago Police Officer Andrés Mauricio Vásquez Lasso was indicted by a grand jury during a status hearing Wednesday. 
Steven Montano, 18, allegedly shot the officer during a foot pursuit in the 5200 block of South Spaulding Avenue on March 1. 
10. Orland Park family says they're lucky to be alive after thieves fired shots at their home during crime spree: A family said they are lucky to be alive after car thieves fired multiple shots into their Orland Park home as loved ones were sleeping.
The family said they fear now that the thieves are back on the streets.